YouTube has been around for a while and it continues to prove that it's an amazing tool for marketers to connect with an audience.
In fact, 55% of marketers use YouTube as part of their strategy.
However, while brand-created content can be successful, it could never match the level of authenticity and trustworthiness of user-created content.
The solution? Simple, partner with creators through a YouTube influencer marketing campaign.
To do it correctly, you first need to know the benefits, how to find influencers on YouTube, and the best strategies.
And that's exactly what you will find in this guide. Let's get started.
Why YouTube influencer marketing?
The first reason is the platform's popularity.
YouTube currently has over 2 billion active users worldwide. That's double the number of active users of Instagram.
Naturally, with so many users, it's a great opportunity to reach your target audience.
Plus, 81% of Americans watch YouTube.
And why did it become so popular?
It's clear that most people enjoy video over other forms of media, but without interesting content, the platform would've never taken off like this.
It's all due to the content creators who have created video formats that people love to watch.
These creators are able to connect with people through their personalities.
And if they align with your ethos as a brand, then they can be the link between you and your target.
This strategy is so effective that almost 90% of marketers report that ROI from influencer marketing is comparable or even better than other channels.
The answer as to why influencer marketing works is that 63% of consumers trust what influencers have to say about products "much more" than what brands say about themselves, according to Edelman.
However, if you want to be successful at YouTube influencer marketing, it's critical that you find the right influencers.
How to find YouTube influencers for your products
Sure, a partnership with a YouTube influencer with millions of subscribers will put your product in front of a lot of new eyes.
But if the influencer's audience doesn't overlap with your target demographic, it's very likely that you won't get a positive ROI.
In addition, some creators want to get sponsored but don't have many subscribers and views, so they buy them.
Obviously, if you partner with one of these creators, you won't have positive results, since their followers are fake bots.
This is called influencer fraud and it's something that you need to keep an eye out for.
But if you follow these steps, you should be safe and with the perfect YouTube influencers.
Identify your ideal YouTube influencer profile
The first thing you need to do is think about the characteristics you would like in an influencer.
And for this purpose, you also need to consider your goals for the campaign.
Your goals can include:
Increase sales
Drive awareness to a product launch
Get content for paid ad campaigns
Increase referrals
Increase downloads
Now answer these questions:
How many influencers do you need?
How many subscribers do the influencers need to have in order for you to reach those goals?
Do they fit in your budget?
What type of content do you want?
How long will the campaign last?
Once you've identified your needs, you have to do an analysis of your target audience.
You probably already have this figured out, so the next step is to consider all of these when looking at candidates.
Now it's time to actually find the influencers through these methods.
Search
The first step in this journey is to search on YouTube for relevant terms for your product.
For example, if your company sells makeup, then you can search for "makeup review".
Generally, the top results will be the most popular influencers at the moment. Scroll down the results if you'd like to find smaller ones.
Enter as many channels as you can and see if they are a good fit according to your ideal influencer profile.
Then, repeat this process until you have a strong list of candidates to contact.
Look at related videos
For each video, YouTube recommends similar videos at the side of the video.
Here you will find influencers with similar characteristics to the one you're watching a video from.
So when you're searching terms and watching videos make sure you also check out these suggestions.
Email your customers
YouTube creator partnerships work the best when the influencer actually loves your products.
This makes the promotion feel authentic, which is something that consumers want.
Influencer collaborations that don't feel authentic don't feel trustworthy either, so you can expect a bad conversion rate if this is your case.
And the creators that love your products are already your customers.
So a great way to find ideal influencers that believe in your brand is by emailing your customer base with the details of a possible collaboration.
All you have to do is include the requirements, terms, and possible compensation.
Use a YouTube influencer marketing tool
You can also make things easier by using an influencer marketing platform.
This type of software has all the tools you need to discover influencers, manage the partnership, and pay them.
Having tools available saves you the time of looking for the influencers manually through the previous methods and instead it's automatic.
SocialLadder uses machine learning to help you find the most authentic YouTube influencers in your customer base.
The all-in-one platform lets you browse thousands of profiles with all their social media details and score so you can find the ideal influencers in no time.
Then, you just have to reach out to them from SocialLadder. Or if you're using the other methods, read the next section.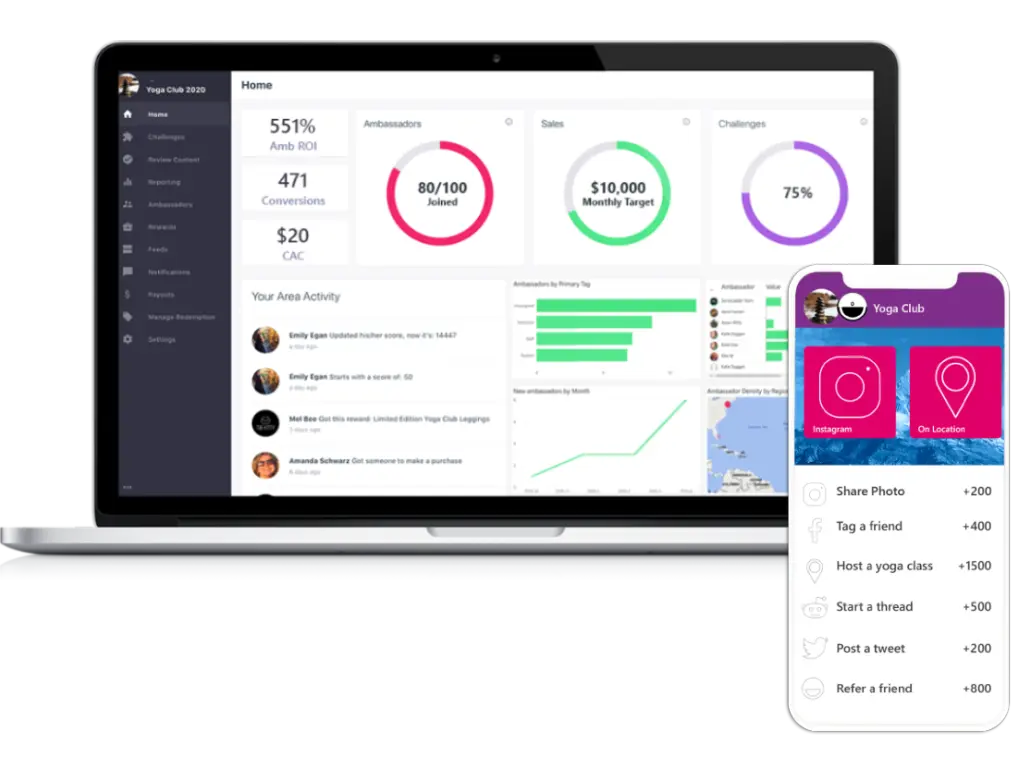 Find the perfect influencers & ambassadors and reward them for spreading the love for your brand with SocialLadder
Discover influencers/ambassadors, build your advocate community, generate UGC, track your ROI, and more.
Reach out to YouTube influencers
On other platforms, you can DM a contact directly or comment in their comment section to get their attention. But on YouTube, that won't work.
What you should do is go to the "About" section on their YouTube channel, and there you will most likely find their email for business inquiries.
If you reach out to them through that email you will talk with the YouTuber's manager or them directly.
In the email, just be friendly and say what you would like to get from the collaboration.
Then, you will negotiate the compensation until you agree on a price and that's it.
Another option is to go into the YouTuber's other social media like Twitter or Instagram and send them a direct message.
Best YouTube influencer marketing Tips
Follow these tips and best practices to be successful at influencer marketing on YouTube:
1. Be authentic
We've said it before but it's worth mentioning a thousand more times.
Your partnership needs to feel authentic for it to be successful.
90% of people say that authenticity is important when deciding which brands they support.
In this context, authenticity means that the partnership is honest, original, and genuine.
To achieve this, it's critical that the YouTube influencer actually feels a connection with your brand.
Or at least, let the creator be completely honest about your products.
2. Partner long-term
One of the best practices for YouTube collaborations is partnering over an extended period of time.
If you regularly watch YouTube videos, you've probably noticed that the same brands sponsor creators over a long-time.
Kind of like when athletes are sponsored by a sports brand.
In essence, they become ambassadors for these brands. And this is the norm nowadays.
Why?
Because it's a much more beneficial partnership for both parties.
Creators have a partner that allows them to grow their channel with resources and the brand gets massive exposure while being authentic.
The only short-term collaboration that works on YouTube is sending products to YouTubers for them to review.
But otherwise, think about YouTube as a long-term thing.
3. Partner with small YouTube creators
YouTube influencers with millions of subscribers charge more, obviously. And sometimes, their engagement rates (views, likes, comments) aren't as good as the ones from small influencers.
Small influencers have engagement rates of 1.63% on YouTube, while big influencers have engagement rates of 0.37% on the same social network.
This is important because engagement rates are an indicator of the connection an influencer has with their audience.
And a better connection means a more effective collaboration.
Most small creators have a better relationship with their audience because people feel closer connections with someone that seems approachable.
Big influencers seem less approachable and kind of like celebrities in many cases. So audiences may feel a disconnect.
For these reasons, small YouTube influencers are great for authentic and budget-friendly partnerships.
4. Use affiliate links
YouTube is the perfect social media platform for an affiliate program.
All you need to do is give your YouTube creators the ability to generate unique affiliate links to products on your website.
Then, every time a viewer makes a purchase using the affiliate link, the YouTuber gets a commission.
The reason why YouTube is perfect for this strategy is that affiliate links come very naturally to videos.
Unboxings, reviews, hauls, guides, tutorials, etc. are all content types that work great in this platform and the insertion of affiliate links is very natural since they are talking about products.
Now consider that each video gets a lot of views and keeps increasing as time goes by.
There's potential for millions of people looking at your products from YouTube.
SocialLadder's Deep Links allows your influencers to generate affiliate links to the products in your website they like and you can track every click and purchase.
5. Be creative
YouTube thrives on creativity.
So don't be afraid to do a collaboration that no one has seen before.
But this can't be one-sided.
The best way for a unique collaboration to work is by listening to the creator.
And in many cases, you can even let the influencer take the wheel.
After all, YouTubers know their audience better than anyone else, so they probably know what would work best for them.