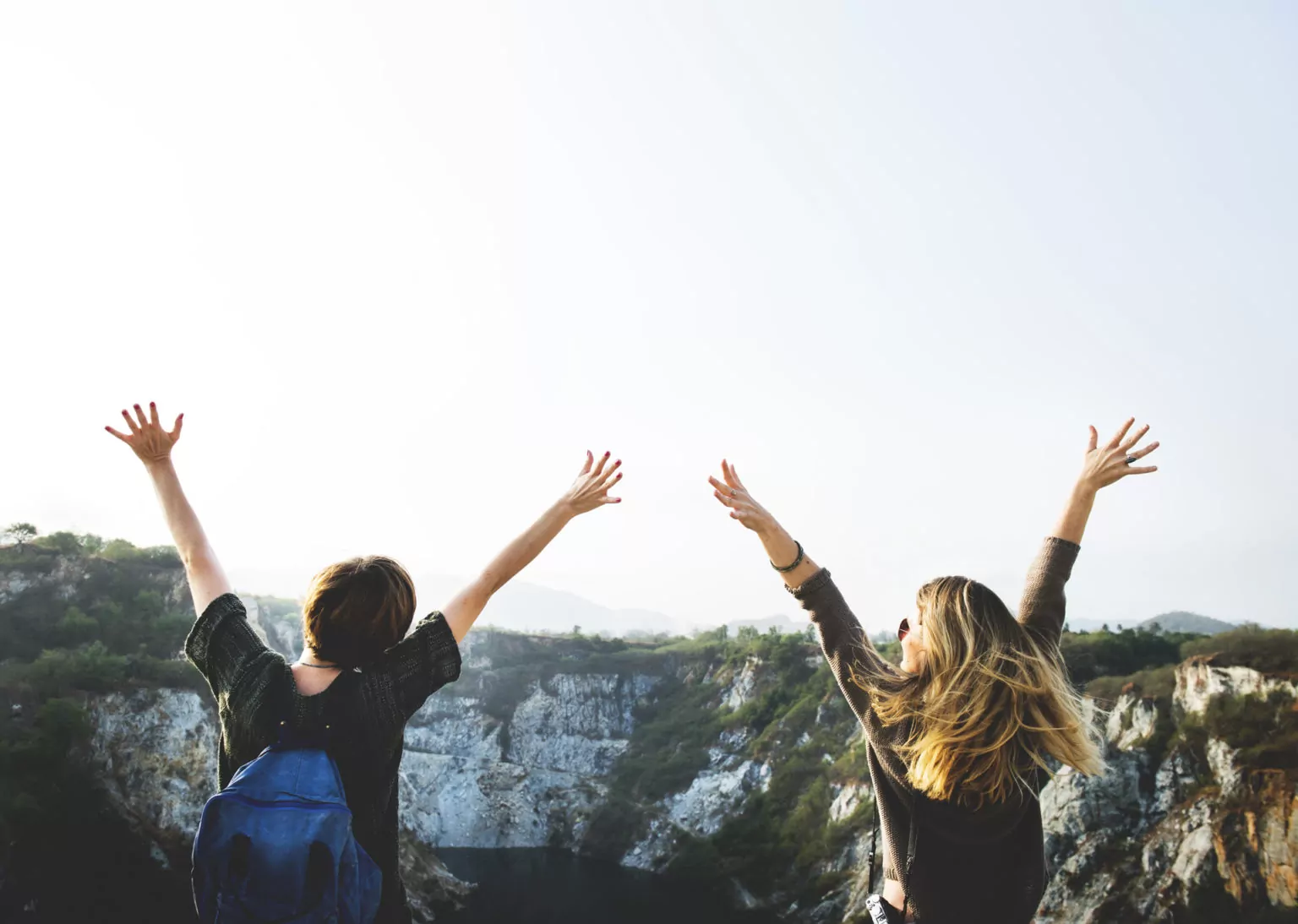 Careers
WHO WE ARE
We love brands and technology. So it's pretty cool that we get to do what we love everyday. And it's even cooler that our clients think we're the "Best Brand Ambassador" tool on the market.
Our technology is used to manage the brand ambassador programs for thousands of events and brands around the world to spread awareness and drive conversions.
Our office environment is laid back and community-driven; discussion and collaboration are at the heart of everything we do. You will have direct access to the co-founders and will be encouraged to share your ideas.
The best part? We are a team of passionate people: Music fans, adventurers, foodies, adrenaline junkies, dog lovers and more. And that diversity, passion, and energy are baked into every corner of our company.
Our culture means everything to us because we do our best work when we are happy, respectful and relaxed. These core values and work ethic are why we were voted the "Best Management Team in the Region 2017" and why we are funded by ex-Facebook, Yahoo and Ticketmaster execs.
So, ask yourself: Are you are an ambitious and motivated self-starter who loves to take an idea or vision and run with it? Does the word "curious" describe you?
If you answered yes to the above questions, you should definitely apply to be a member of the SocialLadder team.
WHAT WE ARE LOOKING FOR
Account Executive – Full Time

We are searching for an Account Executive who loves the consumer brand space, likes to think big and creatively while maintaining & building relationships. Great candidates can roll up their sleeves and make an awesome impact on our small team right away.

High visibility sales role, closing new business, in a high-growth SaaS start-up

WHAT YOU WILL DO

Handle the sales process from demo to close
Consistently set and beat stretch sales/business development targets
Hit a monthly revenue target composed of leads assigned to you from our dedicated BDR team
Manage and document sales activity to drive business growth along with process improvements
Work across channels (web, email, phone, and in-person) to convert prospects into true believers
Leverage our many sales-enablement tools to prospect and manage your pipeline of deal opportunities
Perform demos and effectively communicate key product features and benefits to prospective customers
Become a trusted resource and guide for interested prospects looking to build their own ambassador teams

Rockstar candidates look like this:

2+ years of selling SaaS software or B2B to consumer brands with a target annual quota in the mid-six- figure range
Experience using Hubspot / Salesforce & MS Office proficiency

Outstanding presentation and communication skills
Relentless hustle to reach decision-makers, build trust and identify solutions for their business
Great listening skills with an understanding of macro trends and innovation
A knack for asking great questions
A team-player attitude with a strong desire to help improve internal processes beyond just your day-to-day tasks
Most importantly, you are a positive person! You'll be working in a highly demanding and ever-changing startup environment.
Strong organizational and project management skills
The above doesn't sound like you but you still think you want to join our team? Let us know why because we always love adding people to our team with diverse backgrounds and experiences to help us think outside the box.

THE PREFERS & MUST-HAVES

Must have a high degree of independent thinking and self-responsibility
Extremely personable and outgoing
Ability to collaborate with various departments within a company
Knowledge of social media channels & trends

THE PERKS

Medical, Dental, and Vision Benefits
Flexible work hours
Monthly onsite and offsite corporate events & outings
Small team, BIG impact

Job Type: Full-time

Work Location: Fully Remote
Director of Marketing – Full Time

Are you a Marketing Marvel who loves being knee-deep in quantitative analysis, seeks to automate processes, is hyper-focused on best practices, and is excited to work closely with founders?

Then SocialLadder is looking for you!

Responsabilities:

Lead the marketing team for SocialLadder
Drive positioning, segmentation & messaging
Own go-to-market strategy
Optimize and improve SocialLadder online presence and brand
Manage ABM campaigns
Run customer retention and loyalty campaigns
Own branding, PR, and trademarks
Manage content marketing & thought leadership
Manage paid search and organic search marketing
Hire and grow marketing team capacity
Coach other marketing team members
Conduct SEO research, giving our content production efforts direction and maximizing their effectiveness

Rockstar candidates look like this:

Education/Background: MBA with 6+ years experience working in B2B SaaS Marketing
Proficient in Microsoft Office & Google Suite (experience with Hubspot is a plus)
An entrepreneurial spirit with a marketing "superpower" to leverage for immediate value
Has a range of strategic and tactical marketing skills and is able to execute marketing initiatives, as well as delegate projects to team members
Systems and process-thinker; loves creating order out of chaos
Curious and eager to learn; always looking for ways to level up
Strong writing, editing, and communication skills
A creative mind with keen attention to detail
Focused on adding value to every touch point, process, project or task they are a part of
Experience working directly with advertisers, agencies, and/or clients
Knowledge of full-stack digital marketing strategies and tactics (knowledge in HubSpot, Zoom Info, Chorus, Lemlist is plus)
​​Working knowledge of Google Analytics, Google Ads, and all paid social platforms like Facebook, LinkedIn, Instagram, Twitter, TikTok etc.
Ability to lead small (project) teams, deal with conflicts, and leverage team strengths
Ability to strategically assess and solve SocialLadder marketing needs
Understanding how marketing and sales data can be used to improve funnel ROI

The Perks:

Medical, Dental, and Vision Benefits
Flexible work hours
Monthly onsite and offsite corporate events & outings
Small team, BIG impact

Job Type: Full-time

Work Location: Fully Remote
Business Development Rep – Full Time

We are searching for a Business Development Rep who loves the consumer brand space, likes to think big and creatively while maintaining & building relationships. Great candidates can roll up their sleeves and make an awesome impact on our small team right away.

This position is perfect for motivated, energetic, entry-level candidates just entering the workforce.

WHAT YOU WILL DO

Research accounts, identify key players, generate interest and develop accounts to stimulate opportunities
Respond, engage, and qualify inbound leads and inquiries
Nurture new marketing leads by educating and developing prospects until they are ready to speak with a field sales rep
Collaborate with account executives to develop organizational charts and relationships for key accounts
Work across channels (web, email, phone, and in-person) to convert prospects into true believers
Monitors competition to continually find new account leads
Effectively communicate key product features and benefits to prospective customers virtually and in-person
Become a trusted resource and guide for interested prospects looking to build their own ambassador teams
Follow-up on inbound marketing leads and identify qualified opportunities providing appropriate levels of information at the right time for interested prospects
Set appointments for account executives when a lead reaches a qualified stage
Ensure successful follow-through of the sales cycle by maintaining accurate activity and lead qualification information in the CRM application

Rockstar candidates look like this:

6 months-2 years experience in a related field or an eager-to-learn great communicator who thrives in fast-paced environments
Outstanding presentation and communication skills
A motivated and goal-oriented personality with a self-starting attitude
A knack for asking great questions
Experience with mid-high volume cold calling & prospecting, cold calling, or equivalent
Organized with good time management skills
The ability to learn quickly and work independently in a fast-paced environment
A team-player attitude with a strong desire to help improve internal processes beyond just your day-to-day tasks
Most importantly, you are a positive person! You'll be working in a highly demanding and ever-changing startup environment.
Strong organizational and project management skills
The above doesn't sound like you but you still think you want to join our team? Let us know why because we always love adding people to our team with diverse backgrounds and experiences to help us think outside the box.

THE PREFERS & MUST-HAVES

Must have a high degree of independent thinking and self-responsibility
Extremely personable and outgoing
Ability to collaborate with various departments within a company
Knowledge of social media channels & trends

THE PERKS

Medical, Dental, and Vision Benefits
Flexible work hours
Monthly onsite and offsite corporate events & outings
Small team, BIG impact

Job Type: Full-time

Work Location: Fully Remote
Account Manager – Full Time

We are searching for an Account Manager with a demonstrated ability to advocate for customers, build strategy, develop accounts, crush quotas, and manage contract negotiations for some of the world's most well-known consumer brands.

You have an entrepreneurial mindset when managing a designated portfolio of clients — driving high levels of product adoption, maximizing growth, and enhancing key / strategic relationships.

If you're a pro when it comes to creating urgency, navigating discussions with decision-makers, and selling through value — we're looking for you!

WHAT YOU WILL DO

Retain a large book of business by owning renewal, upsell, and expansion conversations
Know your accounts inside and out to forecast accurately and use a consultative approach to introduce new products
Expand revenue within the current customer base by proving enough value to move brands into new packages

Become a trusted resource and guide for interested prospects looking to build their own ambassador teams
Identify the health, risk, goals, and opportunities within each of your client accounts, and then be able to act accordingly

Rockstar candidates look like this:

You have 4+ years of Sales/Account Management experience (preferably in SaaS Software, BONUS POINTS if within a Social Media or Influencer Marketing environment )

You think critically and strategically and your communication skills are on-point
You're a self-starter with experience carrying a large revenue target with the ability to develop compelling strategies that deliver results
Great listening skills with an understanding of macro trends and innovation
You have experience working with existing customers and running renewal conversations
A team-player attitude with a strong desire to help improve internal processes beyond just your day-to-day tasks
Most importantly, you are a positive person! You'll be working in a highly demanding and ever-changing startup environment.

THE PERKS

Medical, Dental, and Vision Benefits
Flexible work hours
Monthly onsite and offsite corporate events & outings
Small team, BIG impact

Job Type: Full-time

Work Location: Fully Remote