A smart way to manage

word of mouth marketing
All-in-one ambassador management platform to identify, track, reward, and engage your brand's community.
---
Not a brand? Sign up to be an ambassador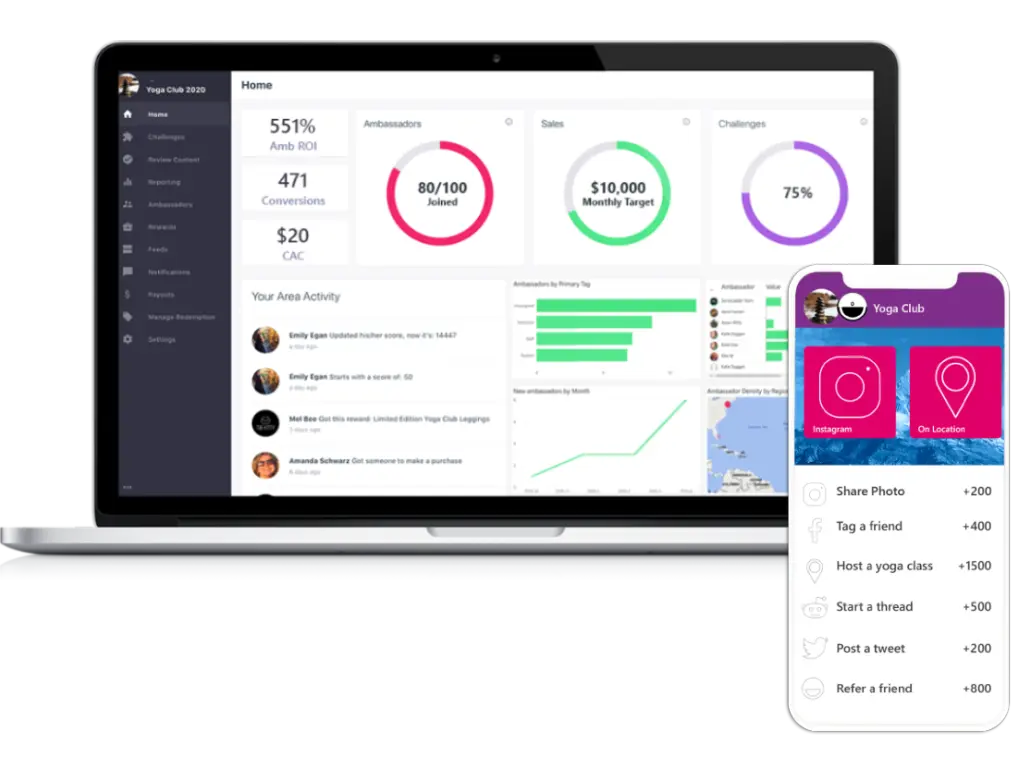 SocialLadder is a turnkey solution for brands to automate their ambassador programs so they can focus on building a relationship with their biggest fans.
Streamline & Centralize Communication
Assign & Monitor Tasks
Cultivate a community
Optimize Referral Programs
Target Tasks & Rewards
---

CLIENTS
Trusted by the world's best ambassador & community marketing teams.
---
Manage
everything

in one place.

Collaborate in a unified place to scale your team and build a community. Manage all of your recruiting, team members, onboarding, tasks, communication, & payments from a single platform.
---
Candidate Discovery
Start marketing through your customers vs to them. Using machine learning, intelligently identify top customers and influencers from your database who will be top performers.
Streamline Communication
Chat, push notifications, interactive message boards, and more give ambassador managers a customizable way to share content & engage with the ambassador community at scale.
Create Accountability
Assign tasks in the real world and online to all users or segments of users. Let the platform handle the tracking so your team can focus on the strategy.
Referral Marketing For Any Brand
Enterprise API and integrations with eCommerce platforms enable your team to track any peer-to-peer referrals — App download, new customer sign up, sales, email collection, and more.
Increase Brand Awareness Anywhere
From content creation to experiential marketing SocialLadder gives your team the ability to track, review, and measure the ROI of any ambassador completed task.
Experiential Marketing In a Digital World
Create hyperlocal awareness & accountability in the real world. Encourage ambassadors to give feedback about what's happening in their neighborhood so your brand can build a more authentic presence.
Measure ROI & Scale
Knowing what's working and what's not should not be a guessing game. Real-time analytics, interactive leaderboards, customizable reports, budget tracking, and more give your team visibility into your team's impact on sales & brand awareness.
Supported Platforms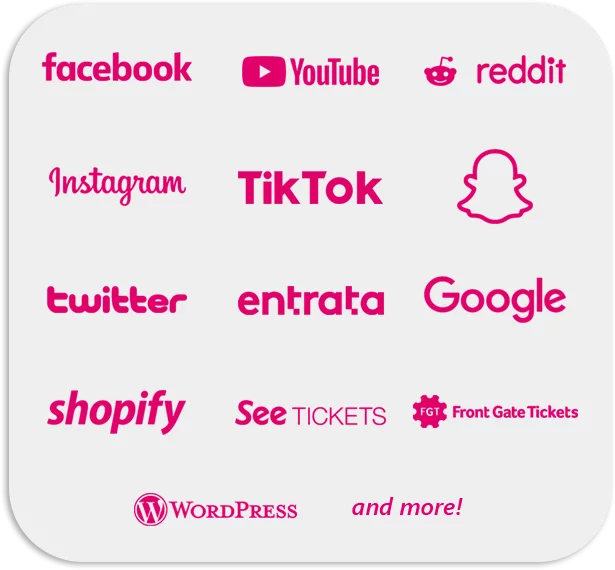 ---
Use Cases
SocialLadder gives your marketing team all of the tools your brand needs to get started — customizable templates, best practices, and technology
Frequently Asked Questions…
What's the difference between a brand ambassador and an influencer?

Ambassadors and influencers complement each other, but the key difference is that Ambassadors are influential people / customers in the real world (who may also have a social media presence) who love your brand and want to bring it to life in their world vs influencers who are popular online and want your products to help them build their brand. Here is an article on our blog.
Do you have a database of influencers or ambassadors?

No, but you do! We believe the best people to talk about your brand are people who have already tried it. The SocialLadder Discovery Module scores your customer database and helps you find "diamond in the rough" customers who you can invite to be part of your brand community.
How quickly can I get started?

ASAP. SocialLadder will provide your team with customizable ambassador templates — ambassador application, handbook, t&c's, etc — & give access to expert resources to ensure your brand is set up for success quickly. Onboarding generally takes 10-14 days and includes technical training.
Can I use SocialLadder for campaigns?

Yes. From marketing moments to product launch, SocialLadder can segment the data for your brand. Ambassadors are a great way to amplify the campaign and build more awareness. Keep in mind that unlike influencers, ambassadors are emotionally connected and personally invested in your brand, so when the campaign is over, SocialLadder gives you the ability to continue to engage your ambassadors until the brand runs the next campaign.
I don't have an ambassador team, what do I need to get started?

SocialLadder is great for any size brand that is ready to take their word of mouth marketing to the next level. As part of your license, you will get access to expert resources and training materials so your team doesn't waste time or money experimenting to see what works. Here is an ebook Building A Successful Ambassador Community For Your Brand to help you get started.
Do you work with agencies?

Absolutely. Give your team better tools to track ROI of ambassador or influencer activity for your clients or ask us about our agency reseller options.
Can I use SocialLadder to manage nano, micro, or macro-influencers?

The short answer. Yes. SocialLadder is built for any brand looking to activate & manage a large group of ambassadors. The more important part is deciding what strategy / approach is best for your brand to achieve its goals. Are you more focused on conversions or brand awareness? Do you want to build a community or run campaigns?
Pricing?

From startups to global brands, SocialLadder is built to scale with you. Pricing includes a setup fee, base monthly subscription, and seat fees (when applicable) that gives you access to templates for an ambassador application, handbooks, onboarding materials, expert resources, technology licensing, and more.
Ready to
activate

your biggest fans?