The Smartest Way to Manage

ALL Creators: Brand Ambassadors, Influencers, Employees and Affiliates
The only true end-to-end creator and brand ambassador management platform to identify, track, reward, and engage your brand's creators.
---
Not a brand? Sign up to be a creator


The only creator management platform you'll need
Build, activate, and scale partnerships with creators across your enterprise with SocialLadder. Manage all of your recruiting, team members, onboarding, communication, tasks and payments from a single platform.
---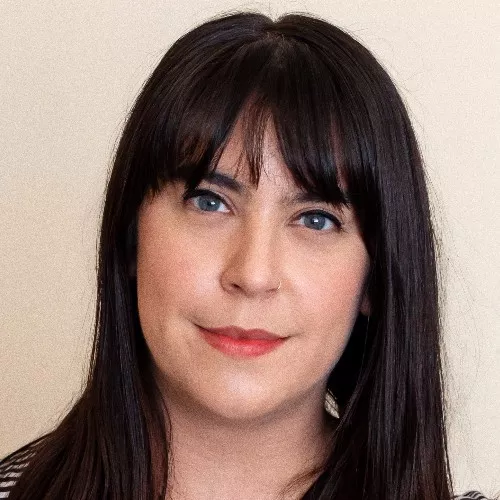 Angela Purcaro
Director of Communications, Benefit
"I don't think we can survive without it!"
---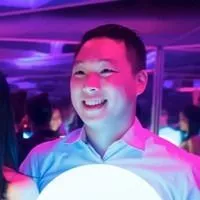 Steven Thompson
VP of Growth, goPuff
"SocialLadder's brand ambassador management tool gave us the ability to make ambassadors a low cost and scalable acquisition channel, reducing paid media spends."
---
---
A holistic brand ambassador management tool for all use cases
Bring all of your creators under one roof!
Discover The Right Creators
Scale your brand ambassador & influencer programs

Find the perfect creators for your campaigns in your CRM or using our Creator Search capability. Manage invitations, applications, and onboarding with SocialLadder.
Learn more
Streamline & Automate
Creator & brand ambassador management simplified

Save time and resources for your in-house teams! Create social media challenges, chat with your creators, and bulk assign tasks under one platform. Additionally, track offline tasks, generate affiliate links, automate brand ambassador & influencer rewards, and more.
Learn more
Track Revenues & ROI
Measure the value your creators generate

Knowing what's working and what's not should not be a guessing game. Real-time analytics, interactive leaderboards, customizable reports, budget tracking, and more give your team greater visibility into brand ambassadors' impact on sales & brand awareness.
Learn more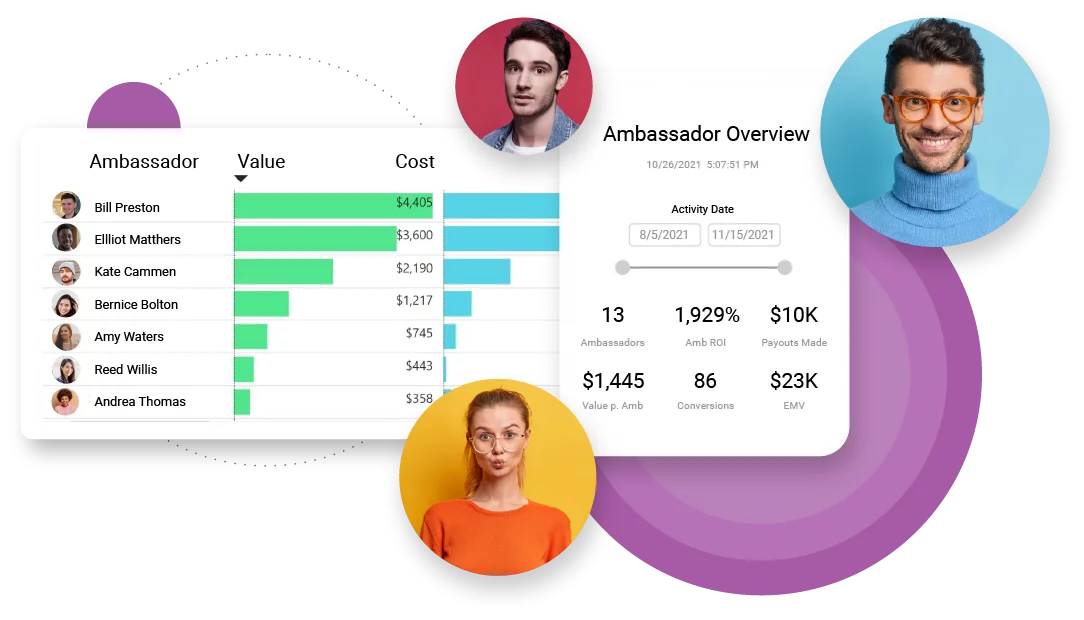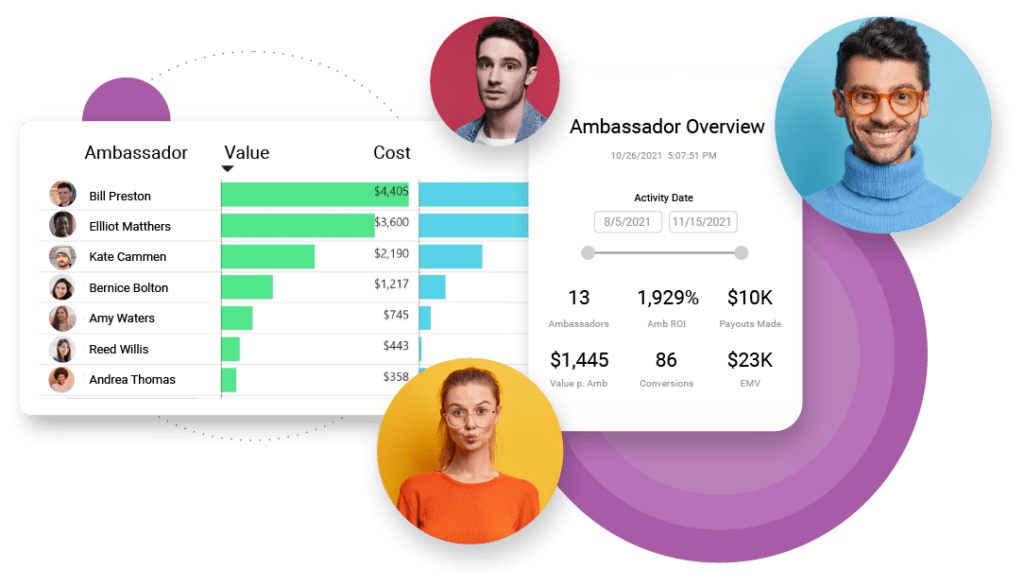 Supported Platforms
Connect your creator & brand ambassador management to your marketing stack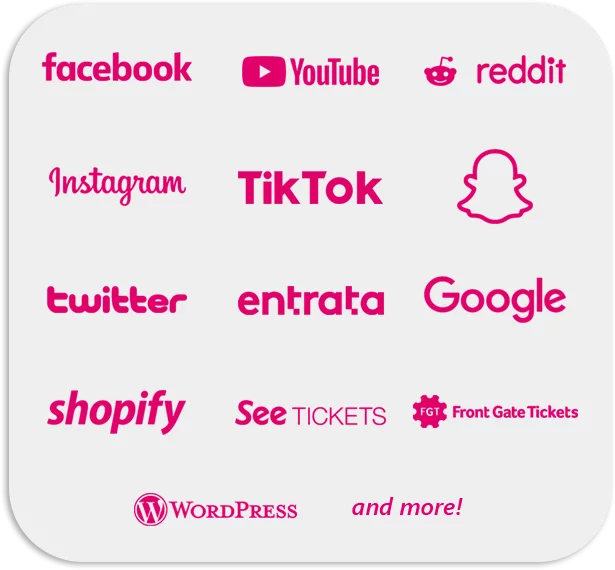 ---
Use Cases
SocialLadder gives your marketing team all of the tools your brand needs to get started in managing your brand ambassadors, influencers, and creators — customizable templates, best practices, and technology
Industries
Whether you're a DTC eCommerce brand, enterprise retail business, fast-growing startup, or innovative consumer app, your customers are your biggest advocates. Transform your customers into growth drivers and create passionate brand ambassadors using SocialLadder!
Frequently Asked Questions…
What's the difference between a brand ambassador and an influencer?

Brand ambassadors and influencers complement each other, but the key difference is that ambassadors are influential people / customers in the real world (who may also have a social media presence) who love your brand and want to bring it to life in their world vs influencers who are popular online and want your products to help them build their brand. Here is an article on our blog.
Do you have a database of influencers or ambassadors?

Yes! We offer a database with over 38 million influencer profiles you can browse through with advanced filters. Plus, the SocialLadder Discovery Module scans through your CRM and scores your customer database to help you find "diamond in the rough" customers who you can invite to be part of your brand community. We believe the best people to talk about your brand are people who have already tried it.
How quickly can I get started?

ASAP. SocialLadder will provide your team with customizable ambassador templates — ambassador application, handbook, t&c's, etc — & give access to expert resources to ensure your brand is set up for success quickly. Onboarding generally takes 10-14 days and includes technical training.
Can I use SocialLadder for campaigns?

Yes. From marketing moments to product launch, SocialLadder can segment the data for your brand. Ambassadors are a great way to amplify the campaign and build more awareness. Keep in mind that unlike influencers, ambassadors are emotionally connected and personally invested in your brand, so when the campaign is over, SocialLadder gives you the ability to continue to engage your ambassadors until the brand runs the next campaign.
What is a creator?

A creator is anyone who creates content online regularly, no matter the number of followers. This includes influencers, ambassadors, affiliates, bloggers, and content creators in general. With SocialLadder, you can find and manage from regular people with a few hundred followers to celebrity influencers.
I don't have an ambassador team, what do I need to get started?

SocialLadder is great for any size brand that is ready to take their word of mouth marketing to the next level. As part of your license, you will get access to expert resources and training materials so your team doesn't waste time or money experimenting to see what works. Here is an ebook Building A Successful Ambassador Community For Your Brand to help you get started.
Do you work with agencies?

Absolutely. Give your team better tools to track ROI of ambassador or influencer activity for your clients or ask us about our agency reseller options.
Can I use SocialLadder to manage nano, micro, or macro-influencers?

The short answer. Yes. SocialLadder is built for any brand looking to activate & manage a large group of ambassadors and creators. The more important part is deciding what strategy / approach is best for your brand to achieve its goals. Are you more focused on conversions or brand awareness? Do you want to build a community or run campaigns?
Pricing?

From startups to global brands, SocialLadder is built to scale with you. Pricing includes a setup fee, base monthly subscription, and seat fees (when applicable) that gives you access to templates for an ambassador application, handbooks, onboarding materials, expert resources, technology licensing, and more.
Ready to
build your creator community

?

Most platforms are built for professional creators accounting for just 5% of all creators, leaving 95% of the remaining untapped.
SocialLadder is designed to help brands harness the power of ALL creators: Brand Ambassadors, Influencers, and Affiliates.