Gen Z skips 82% of ads as quickly as possible, which can make it difficult for brands to reach younger audiences. So, how can brands grab the attention of Gen Z? By marketing through student ambassadors.
Working with student ambassadors allows brands to connect with other students directly through someone who feels more relatable and trustworthy.
From creating user-generated content to hosting events, student brand ambassadors are able to serve as trustworthy brand advocates.
Take a look at these statistics:
92% of consumers trust recommendations from friends and family over any other type of advertising.
82% of consumers are more likely to buy a product from a micro-influencer (like a student ambassador) than from a macro influencer (like a traditional Instagram influencer or celebrity).
The value of this type of marketing strategy is clear as day.
Students come in contact with other students on a daily basis, and it's easier for them to spread messages that other students will accept.
You probably have many questions on starting and growing a student ambassador program, that's why we made this guide.
By the end, you will have a good understanding of what exactly is a student brand ambassador, what they do, how to find them, and everything else you need to know to manage your program effectively.
What is a student ambassador?
How to start a student ambassador program
How to find student ambassadors
What does a student ambassador do?
Compensation
Tracking
Community management
Optimization
The importance of student ambassadors
What is a student ambassador?
A student ambassador is a college student who is invited to represent a brand and increase awareness and sales on and off-campus. Basically, a brand ambassador that goes to college.
This type of ambassador can talk about the brand through social media or in-person. Since students don't usually have the follower count of a large influencer, their value primarily comes from engaging with their friends and other students in the same school.
This strategy is especially beneficial for hyperlocal marketing campaigns.
In other words, a student ambassador is someone who brings a brand to life both online and on campus.
This type of ambassador has less reach, but better chances at converting potential customers.
So, what is a student ambassador program?
A student ambassador program is a type of influencer marketing campaign where a brand recruits a group of student ambassadors to grow the brand's community and for promotional tasks.
Brands don't typically just recruit 1 ambassador. Since their purpose is to engage with family, friends and peers, having even hundreds of ambassadors will increase the reach and results of the campaign.
The idea is to build a community and get people to talk about your brand in actual conversations.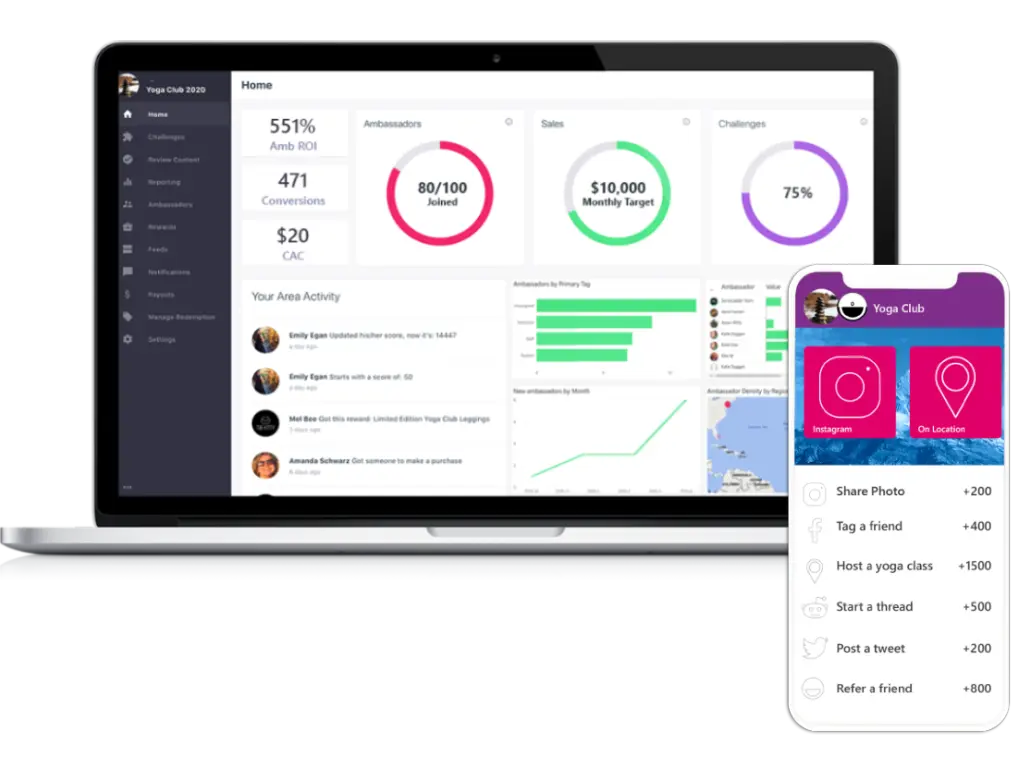 Find the perfect influencers & ambassadors and reward them for spreading the love for your brand with SocialLadder
Discover influencers/ambassadors, build your advocate community, generate UGC, track your ROI, and more.
How to start a student ambassador program
Starting a student ambassador program can seem like a daunting task at first. But you have to remember that your community is your most powerful and least expensive growth channel.
Just take a look at this stat:
Word-of-mouth (recommendation) is directly responsible for 19% of all purchases and influences up to 90%
In addition, promoting your brand on campus can help increase brand awareness and sales in key college markets, as well as give your brand direct access to a younger demographic.
Characteristics to look for in student ambassadors
If you're planning to start a student ambassador program for your brand, here are a few things to look for:
Well connected and involved on campus
Students who actively engage with their community should have a larger reach since they spend more time building connections.
The more social the better.
In addition, these students are typically extroverts who are vocal about their likes and dislikes. Look for students who are part of clubs, Greek Life, internships, sports, etc.
Prior experience with marketing or interest in growing their marketing skills
Not only are brands able to build awareness and a better reputation on campus, but students are able to learn more about sales and social media marketing through hands-on experience.
College students who are interested in this type of skill will be happy to gain professional experience with brands.
This means that they can be great advocates since they want to build a strong resume.
An established online presence whether it's high engagement and/or followers
Another characteristic that you should be looking for is social media presence.
An above-average online presence will be one of their greatest tools for initiating a conversation about your brand.
Just as with influencers, better engagement means more conversions.
Good at creating content that aligns with the brand
When recruiting student ambassadors, be sure to look for people who are already good at creating engaging content that communicates well with your target audience.
User generated content feels more authentic than advertising for consumers.
Shows interest and alignment in your brand's purpose and values
The success of student ambassadors will depend on how good of a fit they are with your brand.
Since they will be the voice of your brand for a specific market, it's important that they can represent your values appropriately.
Otherwise, the promotion won't feel natural to the audience. In addition, ambassadors should believe in your product or they won't be able to recommend it to the people they care about.
How to find student ambassadors
Once you have identified the ideal ambassador profile, it will be easier to find exactly what you're looking for.
And even if they have never been an ambassador, college students are open to participating in opportunities like this one.
Let's get into the ways you can find your ideal student ambassadors.
Consider your customers
To find student ambassadors that fit your brand, make sure to look into your own customer base.
Generally, your best ambassadors will mostly be people who are already passionate about your products.
In many cases, they will already be recommending them. This means that they will be happy to feel like part of the team, increasing their efforts to promote the brand.
Your customers should be your most valuable resource for finding new ambassadors. Turning your advocates into ambassadors will give you a head start in growing a dedicated community.
To invite your customers to become ambassadors you can try the following methods.
Email
The easiest way to reach out to your fans is through your email list.
Tell your customers and subscribers what you're looking for. Be specific about the requirements, the tasks they will be performing, compensation, etc.
You can continue the communication through email or provide a sign-up page.
Instagram
Your biggest advocates will definitely be following your brand on Instagram. Browse through their profiles and reach out to the ones that fit your criteria.
If you want to look for options outside your customer base, start by searching related hashtags, locations, tagged photos, and more to find leads.
Look for people who post about your target colleges, make a list, and send them a DM.
Remember to follow up if they don't respond or if the conversation goes cold.
Linkedin
Linkedin is another great way to find college students who are interested in gaining marketing experience. Approach Linkedin the same way you would if you were recruiting for a position at your company.
Post about the opportunity on the company page using relevant hashtags. Or post on Linkedin's job board as a part-time position.
Do some digging on the college's Linkedin pages and connect with promising candidates.
SocialLadder's intelligent Discovery Module tool can also help you find and recruit just the right students for your ambassador campaign.
Recommended: How to Find Student Ambassadors
What does a student ambassador do?
If you have questions about what are the tasks that student ambassadors can do for your brand, this section should clear things up.
Student ambassadors work best by doing a combination of online and offline activities.
These activities include:
Instagram Feed & Story Posts
Creating and hosting events both virtual and in-person
Flyering and door hanging on and near campus
Hosting events and guerilla marketing on or near campus
Creating partnerships and presentations with organizations
Speaking to local bars/restaurants to collaborate on an event or exclusive deals
For student ambassadors to be successful at these tasks it's important that they put effort to align their content with the brand.
In addition, ambassadors should meet deadlines, otherwise, it can negatively impact the marketing efforts.
How to pay student ambassadors
There are several ways you can approach student ambassador compensation.
Generally, it is not too different from influencer or brand ambassador payment. You can pay them per post, story, video content, or any online or offline task.
However, since you might want to send your ambassadors products to promote them, this option can be a little costly on your budget, but it's not the only option.
You can reward them by sending them products each month the campaign runs. Ideally, your ambassadors like the brand already and will be willing to accept this form of compensation.
The more products your student ambassadors have, the more they will be able to use and recommend them.
This marketing strategy is especially useful if your brand is launching a new product and you're looking to increase its awareness.
If these approaches are not aligned with your goals, you can also offer ambassadors exclusive discounts or commissions for their sales.
The latter serves as an incentive for students to be more dedicated to recommending the products since more sales mean more commissions.
Finally, you can offer a unique compensation model. For example, if the campaign is focusing on driving ticket sales for an event, marketers can offer a free ticket for every 5 sold by an ambassador.
Consider all your options to make the best use of your marketing budget.
How to track student ambassador ROI
Marketers agree that tracking is one of the most difficult parts of this type of campaign. In fact, 52% of marketers say that measuring ROI is the top challenge of influencer marketing campaigns.
However, it's necessary to track the results if you want to make informed decisions to optimize your campaign.
These are some metrics that you should start tracking:
Engagement
Conversions
Impressions
Awareness
Clicks
Sale
Now the difficult part, actually tracking the metrics.
There are several ways you can go about tracking.
For example, using UTM parameters to track links. A UTM parameter is a unique string that can be added at the end of links, which tells Google Analytics where the traffic to your site is coming from.
By using unique links for student ambassadors, brands can identify exactly how many people went to their site as a direct result of the campaign.
To do this, you first need to set up your Google Analytics account. Register and follow the instructions to verify the ownership of the site.
Skip this step if you already have an account.
Once the account is active, you can generate a link with UTM parameters using an online generator. Just fill in the blanks and copy the link.
Then, give this link to ambassadors to use on their social media posts. Google Analytics will automatically track the clicks.
You can also give a unique link to each ambassador, but if the program is large, it can be a little messy to organize all the traffic sources.
Other options include:
Unique promo codes
Affiliate links
Unique landing pages for the campaign
Managing your student ambassador community
An active community is the best type of community. Now that you have everything in place and running, you need to keep your ambassadors active.
To achieve this, communication is key.
The main goal is to make your ambassadors feel like part of the company. Here are a few things you should do:
Check in regularly
Offer exclusive rewards
Provide positive reinforcement
Ask for feedback
Have authentic conversations
Most importantly, be creative and find new ways to strengthen the relationship.
Optimization
By this point you should already have some data available. It's time to analyze your results and start optimizing.
Just as with any other marketing campaign, you need to look at the analytics and pulish your strategy.
Ask yourself the following questions:
What's working?
What's not working?
Are my ambassadors the right fit?
Are the tasks engaging enough?
Then look at your metrics and compare them with your other marketing channels. You should take time each month to review your data and adapt your strategy accordingly.
The importance of student ambassadors
One of the main reasons brands incorporate ambassadors into their social media marketing strategy is to put a trusted face to their brand.
Brands have realized the importance of consumers trusting the messenger instead of just the message.
Although celebrities and macro-influencers are still viable options to drive awareness, a student is more likely to trust someone they deem relatable, like a friend on campus.
Become part of the conversation on college campuses by fostering an authentic relationship with students. We recommend you try it out!
Learn more about starting, managing and optimizing your student ambassador program in the following articles:
How To Train Student Ambassadors
Campus Reps: The Best Job On Campus
Why You Need Student Ambassadors
6 Benefits of Student Ambassadors: Creating Community on Campus