If we're talking about luxury candy brands, Sugarfina is the first that comes to mind (and the first in Google results as well).
With 26 boutiques in North America, 2 in Hong Kong, shop-in-shops within Nordstrom, and their products sold in luxury department stores and gourmet grocery stores throughout the country, Sugarfina has established itself as the undisputed leader in luxury candy.
In hopes of learning more about how Sugarfina was able to achieve this impressive company growth, we had a chat with the brand's VP of Marketing, Julie Kim.
According to Julie, this massive success from the brand is mostly thanks to its understanding of its customer, innovation in product and packaging, brand collaborations, and relevant content.
Let's dive deeper into these aspects of Sugarfina's strategy.
Customer loyalty
"We've attracted an incredibly loyal customer, and that's because we have a very keen sense of who she is, how she shops, what she is interested in, and also because of our loyalty program.
We deeply know our customers through feedback and provide an experience that matches their lifestyle, through our partnerships, products, packaging, and branding.
We listen to feedback from our customers through all channels and this is all factored into what we develop, and new products that come into the pipeline.
Hearing the feedback and having a pulse on what is going on and what people are thinking about, or wanting is part of our process.
This is how we know how to speak directly to our target customers and develop products they want such as candies infused with vintage brut champagne, rosé wine, vegan candies, and more.
This year alone we have launched something new every single month of the year.
Based on this frequency in which we're launching new innovation, our customers have a reason to keep coming back to us to see what's new and what's next.
They know Sugarfina is coming up with something on trend so they want to be the first to try it."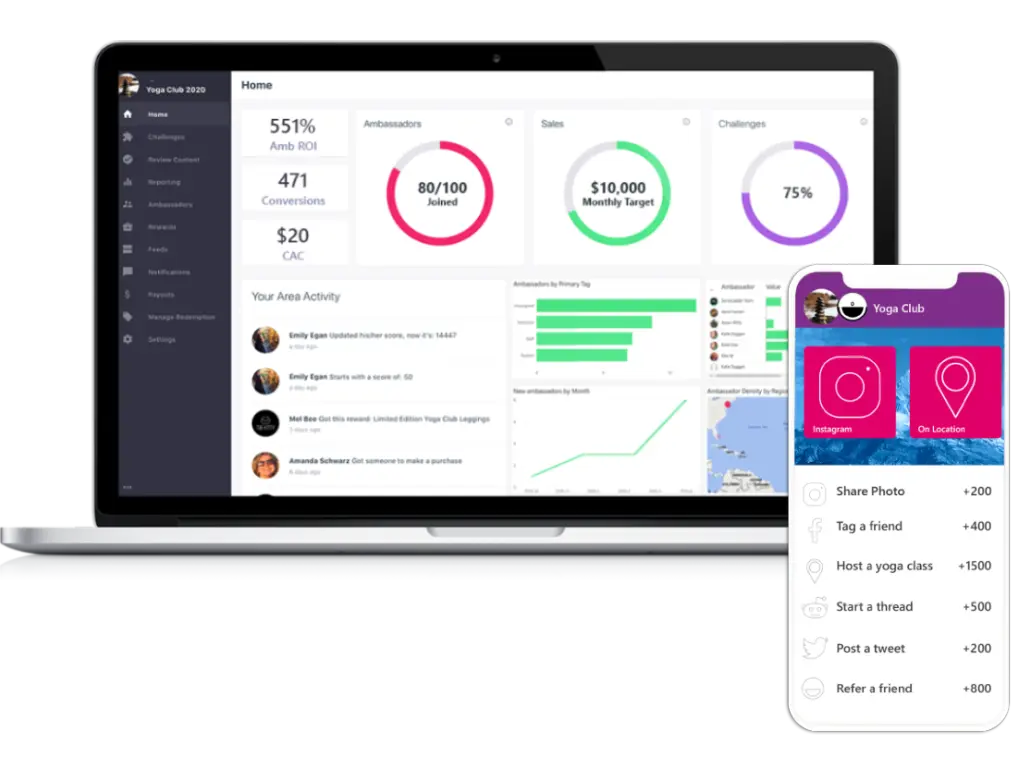 Find the perfect influencers & ambassadors and reward them for spreading the love for your brand with SocialLadder
Discover influencers/ambassadors, build your advocate community, generate UGC, track your ROI, and more.
Loyalty program
As Julie mentioned, Sugarfina's loyalty program is a big part of their marketing strategy and it's one of the reasons they've been able to maintain such high customer loyalty.
Their program works as an ambassador program:
1. Customers register to their rewards program
2. They earn points for the following actions:
Refer a friend
Follow @Sugarfina on social media
Use brand hashtags on social media
Set gift reminders
Shop on Sugarfina
3. Then, members can redeem these points for the rewards they choose
4. Plus, they earn additional points and exclusive rewards like early access to new launches
This type of program incentivizes customers to spread the love for the brand as well as repeat purchases.
Collaborations with other brands
Brand collaborations and partnerships are huge for Sugarfina, according to Julie.
"Sugarfina is so well known for its collaborations that numerous brands reach out to us to collaborate.
This spring we collaborated with Hampton Water Rosé which was founded by rockstar Jon Bon Jovi and his son.
Then in mid-June, we launched our second collaboration with The Simpsons, the longest-running primetime scripted show in television history. This was a unique and exciting partnership that brought in a new customer base that didn't know Sugarfina.
Then, we partnered with Truly Hard Seltzer, a part of the Boston Beer Company and dominant player in the hard-seltzer market.
In one of the fastest growing categories in alcoholic beverages, we partnered with Truly the world's first hard seltzer-infused gummy.
We look to collaborate with brands across different industries from food & beverage, entertainment and lifestyle to create must-have, newsworthy and shareable products. We've also collaborated with brands such as Tito's, Casamigos, Alice + Olivia, Alfred Coffee, Pressed Juicery, and many more.
We have partnered with so many different brands that we've been very fortunate to partner before some of them have become a household name."
Innovation
"We constantly strive to push ourselves in innovation. To outdo previous collections and previous years, we scout the next brand partner and identify the next innovation in products and packaging to excite the customer, introduce something new and continue to have them coming back to us."
As you can see, from all the unique candy collections being launched every month, Sugarfina really tries to be ahead of the curve and provide new experiences to customers as much as possible.
This is very important because it keeps the customer wanting more from the brand.
And it's inevitable to get excited when they collaborate with another favorite brand from the customer.
Locations
Sugarfina is everywhere, and it's part of the strategy.
"We're reaching our existing and target customers where they are shopping.
We have 26 boutiques in North America, 2 in Hong Kong and now that travel is booming again, we just opened up our newest boutique in Resorts World Las Vegas.
Sugarfina is also present in other luxury hotel locations, such as in The Bahamas, Miami, Charleston, and California.
We are also in luxury department stores such as Nordstrom, Neiman Marcus, Bloomingdale's, gourmet groceries, and the list goes on."
Final Thoughts
The success of Sugarfina proves that engaging with and doubling down on your best customers is necessary to maintaining a stellar brand reputation and customer loyalty. Customers want to feel heard. It's not enough for brands to just develop innovative products, they need to continuously reward their fans and maintain a long lasting relationship.
Check out what new amazing products Sugarfina is launching at sugarfina.com and make sure you follow them on Instagram.
Also, if you're looking for gift ideas or just a treat for yourself, check out these recommendations from Julie herself:
Champagne Bears
Cranberry Cocktail Bears
Peanut Butter Cookie Dough