Learn how Pennsylvania's leading digital credit union, PSECU, increased their referrals 30x and brought their college ambassador program back to life with SocialLadder.
OVERVIEW
PSECU, also referred to as Pennsylvania's leading digital credit union, has been a trusted organization for over 80 years. The not-for-profit credit union is committed to providing convenient and reliable support services to their members, which means PSECU needed to find innovative ways to reach new audiences and continue educating members on the benefits of banking with their credit union.
For them, reaching new audiences involves educating younger generations and seeking future members in targeted markets, so PSECU decided to bring college ambassadors into their online and offline marketing strategy.
"SocialLadder allowed us to keep our college ambassadors engaged and accountable – online and offline – so we can focus on strategy and scaling our word-of-mouth for PSECU across the college markets."
PROBLEM
PSECU was one of the first digital banks in their region and needed a way to stay ahead of their competition, so they looked to college ambassadors along with campus leaders to help educate the community and fellow students on PSECU.
PSECU needed a gamified way to keep the program fun and their college ambassadors engaged, since traditional face-to-face meetings with college ambassadors were no longer possible due to the pandemic.
They needed a digital solution to streamline communications, management, and reporting in order to continue the college ambassador program into the future.
"Without SocialLadder, we wouldn't have had a way to continue our ambassador program. Not only were we able to keep our ambassadors active – offline and online – but we were able to improve our strategy and increase engagement."
SOLUTION
PSECU uses SocialLadder to build community and exposure for their credit union on college campuses as well as engage their ambassadors and track referrals.
As PSECU ambassadors, they complete tasks like these to unlock exclusive rewards:

Host online financial literacy workshops
Post their PSECU Pride
Refer a Friend to join the credit union

The HQ team is able to use these features to scale the program:

Gamification and communication tools to keep their team engaged
Track and manage "new account" referrals
Reporting to track the continued growth of the program
RESULTS
The ambassador program has brought in approximately

778 New Member Accounts

to date.
Having ambassadors interface with the campus community has made banking "fun!"
The gamification inside of SocialLadder makes it engaging for ambassadors to post their pride for PSECU, keeping them interacting with social media and each other.
This helps PSECU stand out from their competition
They have seen a

30x increase in referrals
"SocialLadder is the BEST platform I have ever worked with! We are having a record-breaking season for new member sign ups and feel it is directly because of the ambassadors."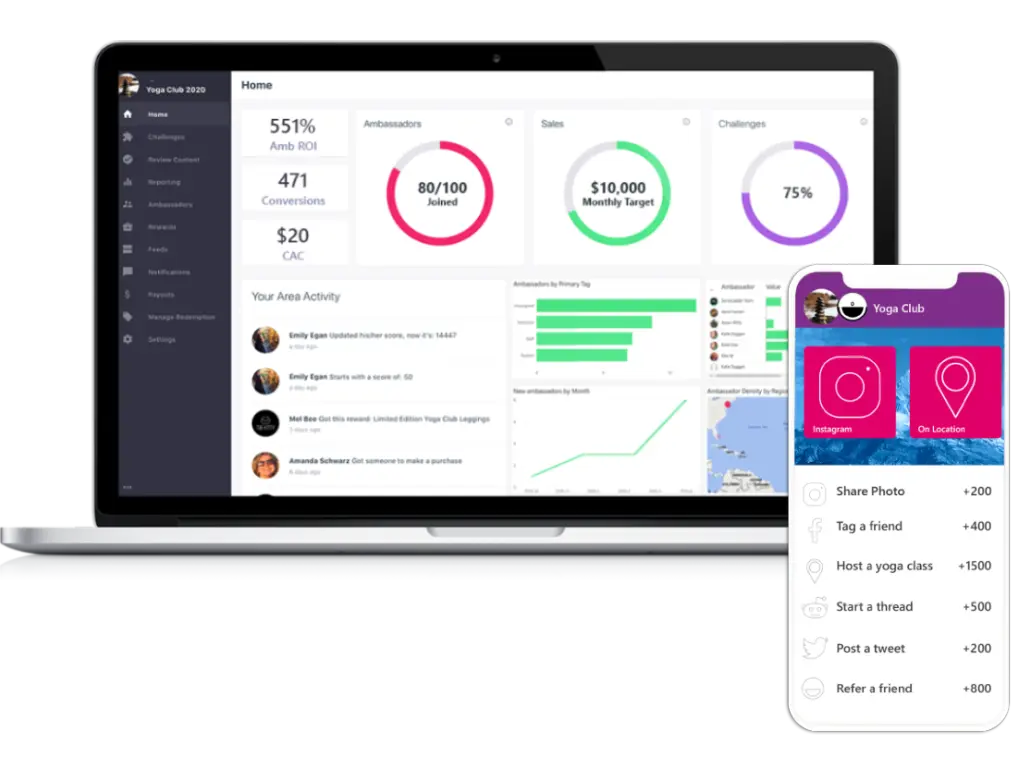 Find the perfect influencers & ambassadors and reward them for spreading the love for your brand with SocialLadder
Discover influencers/ambassadors, build your advocate community, generate UGC, track your ROI, and more.