You have probably heard the metaverse is going to be huge for influencer marketing and the creator economy in general.
If you haven't, then you may want to know that the previous statement is true, based on current trends.
Actually, the metaverse is a $1 trillion opportunity.
But, why should you consider creator partnerships on the metaverse and how can you do it successfully?
We will answer those questions in this guide and show you some examples of brands already doing it.
What is the metaverse?
The first step to start planning a strategy is to understand what exactly is the metaverse.
The metaverse is a virtual environment that allows people to connect, interact, collaborate, and play without physical limitations. In essence, it's a digital world within our world.
There are many technologies that can be involved in a metaverse, including blockchain, NFTs, virtual reality, augmented reality, among others.
And yes, there are many metaverse platforms, each developed by separate teams.
The one that has gotten the most media attention recently is Meta due to the fact that it's being developed by Mark Zuckerberg's Facebook, now called Meta.
However, there are other metaverse projects that started before and remain very popular.
The biggest ones being Decentraland with over 300,000 monthly active users, and The Sandbox with over 500,000 as of today. 
Other platforms in the conversation are Roblox and even the video game Fortnite. More on these below.
With so many users and infinite creative possibilities, the metaverse possesses a huge opportunity for brands.
Why metaverse influencer marketing?
The metaverse is another channel brands use to reach their target audience in a way that is much more interactive and authentic than other channels.
People from all ages and backgrounds with all kinds of interests are in the metaverse so your audience is already there.
And just as a social media platform, a metaverse platform is accessible to anyone with an account.
So, as this trend continues to grow, so will the user-bases.
In addition, since the metaverse is a virtual world, there is a lot of freedom to create events and interactions. This experience impacts consumers much more than a social media post.
This is a great opportunity for influencer marketing because it gives creators the ability to connect with real people on another level.
For example, an influencer athlete can play football, golf, or even box with fans.
Fashion influencers can try out your newest clothing line virtually with people and participate in a virtual runway.
Or if you're looking for more organic interactions, metaverse brand ambassadors can spark up the conversation about your brand in virtual spaces the same way they would in the real world.
And you can't forget about 100% virtual influencers. Digitally created characters that act as influencers on metaverse and social media platforms.
Remember, it's still pretty early for the metaverse, which means it's also the best time to start investing in it.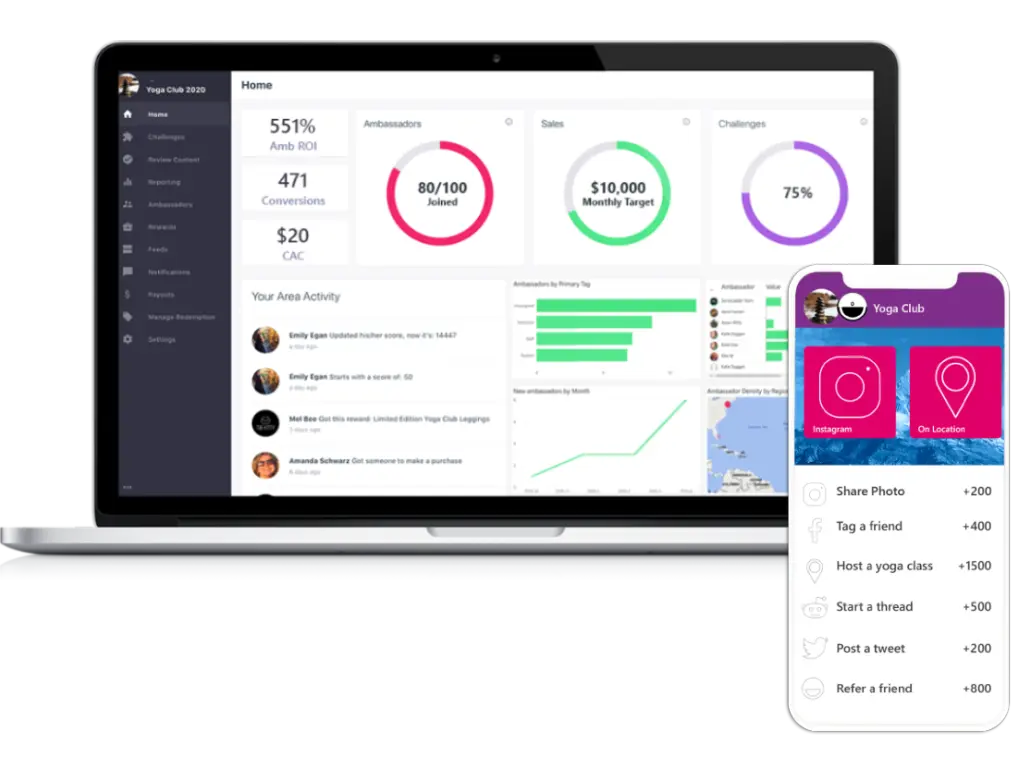 Find the perfect influencers & ambassadors and reward them for spreading the love for your brand with SocialLadder
Discover influencers/ambassadors, build your advocate community, generate UGC, track your ROI, and more.
Examples of brands in the metaverse
So, what are brands doing today to take advantage of the huge opportunities the metaverse is creating?
Gucci, Nike, Balenciaga, and apparel brands
Gucci was one of the first to capitalize on NFTs and the metaverse by creating unique digital pieces as NFTs and selling those collections.
They also hosted a successful virtual gallery on Roblox.
And now, Gucci has plans of creating experiences on the metaverse platform The Sandbox.
Other brands such as Nike, Balenciaga, Burberry, and Louis Vuitton are also trying to be part of the metaverse by investing in these platforms, creating NFTs, and even investing in virtual real estate
For example, Nike launched their metaverse headquarters on Roblox.
The fashion industry is undoubtedly being revolutionized by the metaverse, with more brands moving to this space to sell unique creations in the form of NFTs.
The movement is so major that Decentraland is even going to launch its first Fashion Week, with digital showrooms, stores, talks, and events happening during 4 days.
Coca Cola
This industry giant is also investing in its metaverse presence, especially on Decentraland.
Coca Cola creates digital collectibles and auctions them on this metaverse, with pieces sold for more than $575,000.
Brand collaborations with Fortnite and Roblox
Fortnite is a very popular video game and while many may not consider it a metaverse, it is very present in the conversation.
Especially because they have a case study for the success of virtual events.
The most popular being a Travis Scott 9-minute concert.
This event was attended by an astounding 12 million people and generated $20 million.
Roblox is another video game that is now being treated as a metaverse because of all the possibilities it allows its users.
As we mentioned before, even Nike has its metaverse headquarters on the platform.
How to start marketing on the metaverse
Influencer marketing on the metaverse is still developing, but that doesn't mean you can't start building a community and interacting with people on these platforms.
For marketing, the ones early to the party are always the most successful ones.
This is what you need to know to start building a strategy.
Research about the metaverses
Each metaverse platform is unique.
So you really need to do a deep dive into each promising platform and understand its capabilities.
Some platforms give you the ability to build your own spaces and create your own events, and for others, you may need to work more like a collaboration.
For example, on Decentraland you can build your own space around your brand, display your products as NFTs, let people in, and have someone there to interact with visitors.
However, if you want to appear on Fortnite, you need to talk to their team for something to happen.
Same as with social media, understand how each platform is being used by users and you will know where you can reach your audience and how to do it.
Decide the influencer tasks
Now that you have chosen the platform you would like to have a presence in, you need to think about the ways you want to interact with your audience.
As we mentioned before, you can think of unique events that match your brand and your audience.
However, you don't need to spend a huge amount of budget on developing events, spaces, and NFTs.
You can just collaborate with creators that are already in the metaverse and figure out together how the partnership can work.
There are many talented people with a presence in the metaverse already who can use their influence to promote your products in a unique way.
They already understand what works and what doesn't, so make sure that your partnership involves a lot of feedback from the creators.
This is the best way you can build a connection with people on the metaverse through influencer marketing.
The tasks can be as simple as getting referrals or even them hosting an event that they built themselves.
You can then post about all of these tasks on social media.
Remember that social media plays an important role as well, since it's a channel to create widespread awareness about what you're doing on the metaverse.
Find metaverse influencers and creators
Finding the perfect creators for your campaigns is basically the same process as with a social media influencer program.
The best way to start is by looking at your customer base.
Today, influencer marketing is all about authenticity. Without it, there is very little chance of success.
That's why your customers make for the perfect partnerships, they already love your products and can talk about them out of genuine likeness.
So reach out to your customers through email or social media.
Look for accounts that post about the metaverse and see if they match your ideal influencer profile.
Then, just reach out and talk about how you can make this work.
Tools to find metaverse influencers and creators
However, manually looking through profiles and reaching out through the various social channels and email is not very efficient.
With so many communication channels, you can easily lose track of important information and miss out on great candidates.
So the best way to find ideal creators and influencers is through a tool.
SocialLadder has the ability to scan through your customer database and with machine learning identify the best possible candidates for your campaign.
Then, you can reach out and manage their applications and onboard them from the same platform.
Or, you can also use SocialLadder's influencer database to expand your search and find ideal metaverse influencers that aren't in your CRM yet.
In addition, you can communicate with all of your influencers through SocialLadder instead of going to each social media DMs or email.
Click here to take a tour of SocialLadder
Tracking ROI on the metaverse
Tracking ambassador tasks and ROI on the metaverse presents basically the same challenges as field marketing activities.
And as it's always the case for influencer marketing, you can't only track sales because that doesn't give you a full picture.
Other metrics that need to be measured other than sales can be awareness, earned media value, signups, engagement, interactions, among others.
The good news about this is that virtual events will be, by their very nature, easier to track and measure than real-world activities.
Capturing content and moments from virtual events will be as normal as taking a photograph at a real physical event.
SocialLadder can integrate with these metaverse platforms to facilitate the process end to end from organizing, planning, giving creators credit, and capturing the resulting content. 
Recommended: How to measure influencer marketing ROI
Final tips on metaverse influencer marketing
The best tip we can give you for starting a metaverse influencer marketing strategy, whether it's an influencer campaign, an ambassador program, an affiliate program, or any kind of creator partnership is:
Be authentic and work very closely together with your creators.
The metaverse, the creator economy, and web3 in general, evolve very quickly, so it's in your best interest to collaborate with people that understand the space as creators as well as getting as much feedback as possible to make the partnership a big success.