In this article, we will explore the top marketing trends for 2022 according to experts.
The marketing world is in constant change, and 2022 will be no different.
Marketers know this and in 2022 there will be a lot of changes to strategies across companies.
That's why 51% of marketers in B2C brands plan to increase their marketing budget in 2022. 
As you will see below, there will be a lot of focus on content creators for B2C brands.
And it's no surprise, considering the huge opportunity that the creator economy is opening up.
Keep reading to understand why the creator economy will be important for you in 2022 and other growing trends.
The Importance of the Creator economy
The creator economy will grow a lot more in 2022.
It's estimated that the creator economy is worth over $100 billion and it keeps growing daily.
In case you're not sure what this means, let's define the term.
The creator economy is basically all the people creating monetized content online and the companies that participate in this process.
As a brand, the creator economy is important because it involves the partnerships you can make with content creators.
And in 2022 these partnerships can take your brand to the next level.
The basic idea behind partnering with influencers, ambassadors, affiliates, and creators in general, is that they have already built a connection with an audience beforehand.
So, they can communicate your products in a much more trustworthy and effective way than brand-created content.
It's a fact that people distrust brand-created content and traditional advertising more and more.
Now, for a lot of consumers, if it feels that you're trying too hard to sell something, it comes across as disingenuous.
The creator economy allows brands to connect with people in a more human way, through content that people enjoy.
What you can do
Brands, consumers, creators, and communities will be even more interconnected in 2022, and you need to think about creators in a different way than a simple short-term endorsement.
While that type of campaign will still have its place and can help for certain goals, it's not what consumer behavior will support in 2022.
People want to support brands and creators that feel authentic, transparent, and who offer a genuine relationship with them.
So instead, think about creators—no matter their size or platform—as long-term partners with the common goal of growing together.
These types of partnerships come in many shapes and sizes, but it's not as complicated as you might think.
Any partnership with creators that is long-term, can technically count as an ambassador program. Including affiliate programs, employee advocate programs, etc.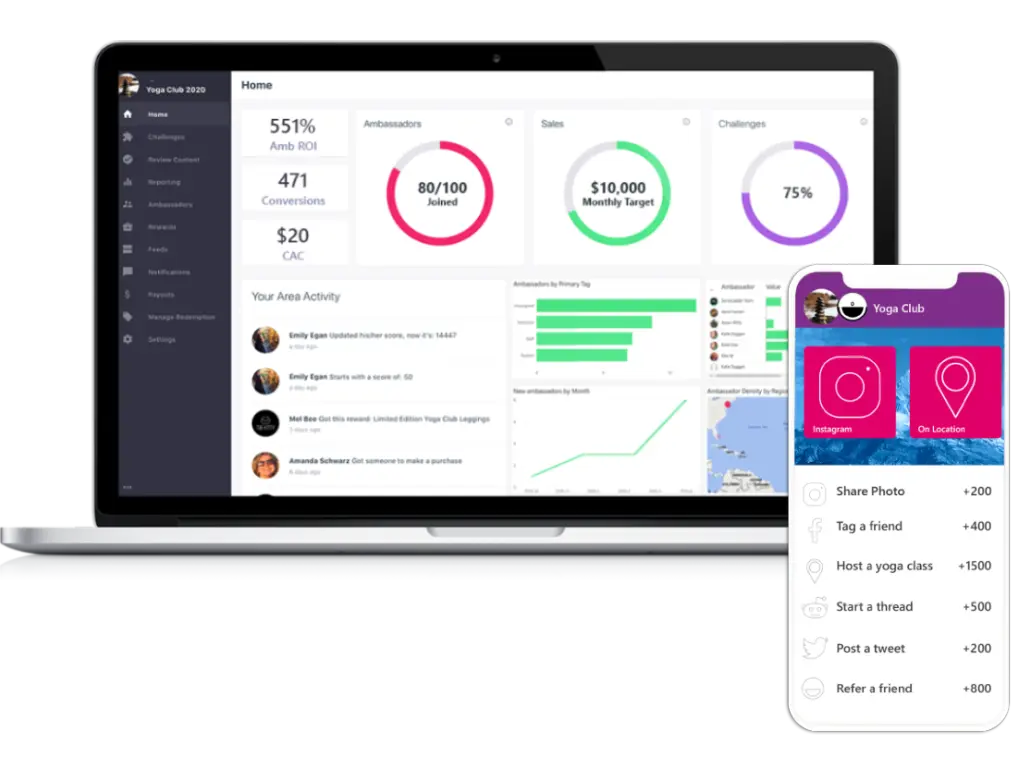 Find the perfect influencers & ambassadors and reward them for spreading the love for your brand with SocialLadder
Discover influencers/ambassadors, build your advocate community, generate UGC, track your ROI, and more.
Ambassador marketing continues to evolve
The next trend that is highly related to the creator economy is ambassador marketing.
Ambassador marketing is a type of influencer marketing but with a lot more versatility.
Many people think that brand ambassadors are only the celebrities or famous athletes that endorse major brands.
But in reality, anyone can be an ambassador for your brand if you invite them.
Including influencers, customers, employees, students, etc,
The point is to partner with anyone that can bring value to your organization through online content, in-person tasks, and feedback.
As we mentioned before, marketers are trying to stay away from marketing tactics that feel disingenuous.
And ambassador marketing is the next step for that since long-term partnerships with people that care about your brand feel more genuine.
A program can work in many ways:
Brands can pay cash rewards, free products, discounts, commissions, perks, or any payment method that works for both parties.
In exchange, ambassadors do a variety of marketing activities, but mostly the creation of social media content and feedback.
The main benefits from this type of marketing campaign are:
Increase in brand awareness
Increase in sales and referrals
Constant UGC generation
Feedback
Recommended: How to launch and scale an ambassador program
What you can do
If you already collaborate with creators, try making it a long-term deal where you offer rewards in exchange for UGC, feedback, referrals, etc.
Make your program fun for the ambassadors and build it as a community.
Also, consider making your ambassador program with customers, employees, or students.
It doesn't matter that they don't have millions of followers, the important thing is that they have influence over their family and friends because that is very valuable.
If you don't collaborate with anyone, launch a small ambassador program and once you get the hang of it, it will be easier to scale it.
Campus Reps and College Programs
In relation to the previous point, more brands will target Gen Z and young demographics through college ambassador programs.
These can work the same way as a regular ambassador program but with college students.
And with the recent ruling by the NCAA, college athletes can now earn money through paid partnerships with brands.
Brands such as TiVo and Blue Delta Jeans are even offering these types of partnerships to entire football teams.
Another example is Boost Mobile that is now expanding to many campuses across the United States.
College athlete ambassador programs and student ambassador programs in general, are pretty new but we are seeing enormous amounts of interest in them.
So you can expect this type of program to have a boom in 2022.
What you can do
If you're targeting Gen Z and young demographics in general, it's a great idea to collaborate with students to get the awareness you need right where you need it.
Students trust other students, so there is no better messenger than them for this type of promotion.
In 2021 we saw many brands start college programs and now the interest is over the roof.
So expect to see these types of programs much more in 2022.
College athletes are also great because they generally have a lot of influence on their campus.
Starting a student ambassador program is not as difficult as you might think.
Just follow our guide if you want to learn more.
User-Generated Content (UGC)
In 2022, most DTC brands will be using UGC in their marketing strategy.
Whether it's in social media, paid advertising, or website design, customer content and reviews have been proven to be super effective when it comes to gaining consumer trust.
And it's pretty easy to see why.
People respond better to user-generated content than brand-created content because it feels a lot more honest and they can relate better to it.
In fact, 76% of people say it's more likely they trust content shared by "normal" people than by brands.
Brand-created content will still have its place, but now, it's important to mix in content from customers as well.
What you can do
The first step is to look for UGC that is already being created around your brand.
People love to show the brands they support online, so make sure you check your tags and scan social media platforms for content.
Then, just ask permission to use this content in whatever marketing campaign you would like.
However, if you can't find usable UGC, you will need to encourage it and incentivize it.
The most common ways of encouraging UGC are by creating social media challenges and competitions.
This way, you're telling people to submit images or videos showing your products in a fun way and the best ones get a reward.
You can also incentivize UGC by giving people a reward for posting social media content.
For example, you can give selected people store credit and in exchange, they need to post 3 TikToks in the month.
Building Brand Communities
As we mentioned before, consumer behavior is changing and now people gravitate more towards brands that offer a genuine relationship instead of a straightforward company-customer interaction.
People choose to support the brands that share their values and that offer an experience that goes with their lifestyle.
That's why marketers are taking special attention to better understanding the wants of their customers and providing experiences that speak directly to them.
Building a community around your brand is all about that.
It's about engaging with your customers in a way that is more personalized and transparent.
80% of startup founders say building a community is important to their business.
By providing this value to people, you build a strong connection with your supporters, and out of that relationship, those same people support the growth of your brand.
Mainly through word of mouth, but also through user-generated content, advocacy, and feedback.
We are now seeing, and undoubtedly will continue in 2022 a focus on building a community instead of just a customer base.
User experience and authenticity will take the front seat in marketing in 2022.
What you can do
Having followers on social media is not enough.
You want to build an engaged group of people that truly care about supporting you.
To do this, you need to focus on finding those people who already really love your products.
Focus on 100 customers or less.
Then, engage with them constantly and provide an exclusive experience.
For example, a Facebook group where they can talk to your staff, provide feedback, and get exclusive perks for being part of this group.
Building this first group of advocates will be crucial.
Then you can focus on scaling the community through your advocates.
The most important part of this is probably feedback.
Really listen to what your customers want from you and provide it. No one understands what your customers want better than them.
TikTok Dominates Short-Form Video
It's well known that TikTok is trying to take the throne from Instagram as the new top social media platform.
Its massive popularity has opened the doors for DTC brands to connect with audiences in a more authentic way.
And this is why TikTok is so appealing to people.
The content feels more authentic than on other social media platforms.
In addition, the short-video format works very well to captivate people's attention.
In fact, short video content was the marketing tactic with the second highest ROI (behind influencer marketing) for B2C marketers in 2021, and it's clear that it will continue to grow in 2022.
However, this doesn't mean that you should forget about your other social channels.
Recommended: The best tips for TikTok Marketing
What you can do
It's still pretty early for TikTok.
That's why it's the perfect time to invest in the platform.
Open up your account and upload content that feels human and authentic.
The best way to find the content that will work for you on TikTok is to use the platform and really have a pulse on the interests of your target audience.
Then, engage with other accounts by commenting, making duos, etc.
And finally, encourage TikTok creators to make content about you and repost it in your account.
All of this is easier said than done, but it is important to try different types of content and platforms until something resonates with your audience.