College athlete endorsements have been a source of debate for a while. But now, brands can officially collaborate with student athletes thanks to an intervention by the Supreme Court and a new ruling by the NCAA.
This has opened up a massive opportunity for brands to tap into Gen Z and campuses across the United States.
But, what is allowed by this ruling and how can you start a college athlete influencer marketing campaign?
These are the questions we answer in this article. Let's get started.
Can college athletes be paid?
Yes. College athletes can use their name, image, and likeness (NIL) to promote products and monetize their online content.
For some background, the NCAA formerly restricted student athletes from these benefits to make the competition among college sports programs even. 
This way, the sports programs with the most resources wouldn't dominate the league.
However, college sports are massively popular and drive equally massive amounts of revenue each year.
From which college athletes see very few benefits considering how much schools make.
In addition, a very small percentage of student athletes get drafted in the big leagues and many others are in student debt.
All of this led the Supreme Court to intervene and the NCAA had to lift these restrictions.
With Supreme Court Justice Brett Kavanaugh saying:
"The NCAA couches its arguments for not paying student athletes in innocuous labels. But the labels cannot disguise the reality: The NCAA's business model would be flatly illegal in almost any other industry in America."
Despite this ruling, only 22 of 130 NCAA FBS-level schools say they have plans to provide allowed academic bonus payments to athletes this year.
What all of this means is that college athletes are now part of the creator economy and they can use their personal brand (NIL) to make money through brand partnerships (influencer marketing) and more.
And, how many college athletes are there?
There are over 480,000 college athletes, according to the NCAA. 
So let's talk about how you can make this happen.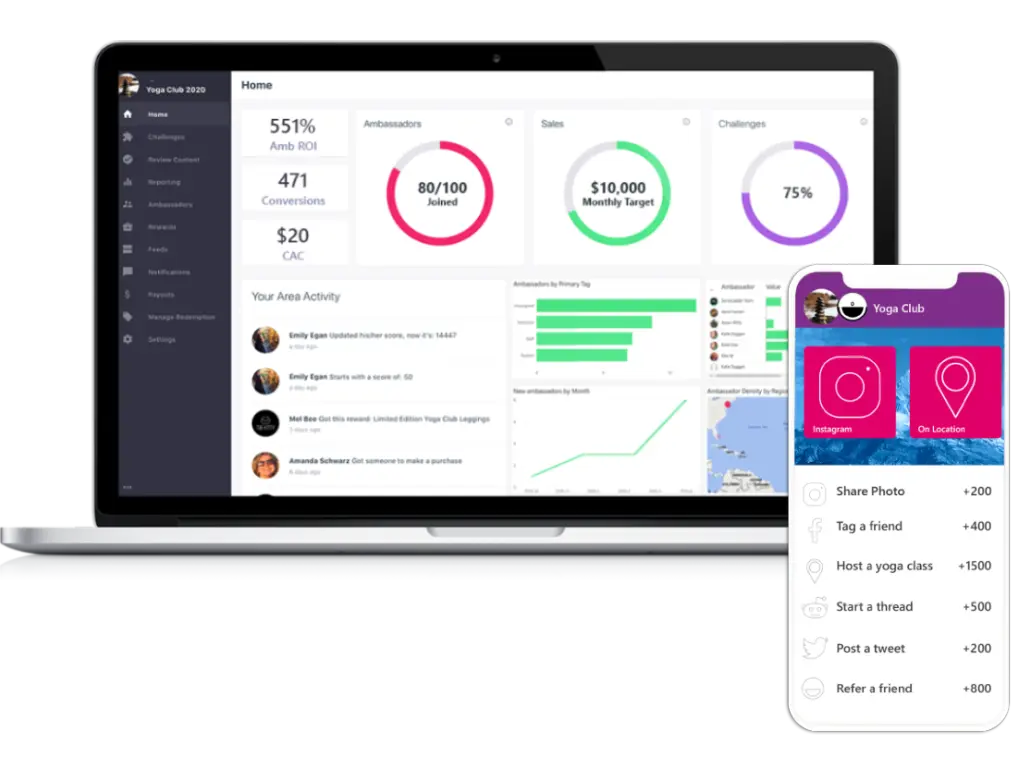 Find the perfect influencers & ambassadors and reward them for spreading the love for your brand with SocialLadder
Discover influencers/ambassadors, build your advocate community, generate UGC, track your ROI, and more.
How to partner with college athletes
Creator partnerships have been around for a while, the only difference now is that you're partnering with college athletes.
So you should already be pretty familiar with the types of campaigns you can launch.
We will focus on two strategies that you can use — one long-term and one short-term.
Long-term college athlete ambassador program
Long-term creator partnerships are becoming the standard in the industry as the creator economy grows and as consumers find authenticity in marketing more important.
90% of people say that authenticity is important when deciding which brands they support.
Long-term partnerships with big and small creators feel more authentic since they are vouching for one—or few—brands instead of many at the same time.
This is where ambassador programs come in.
If you're not familiar with ambassador programs, don't worry.
It just means to partner with anyone—in this case college athletes—over a longer period of time, where the ambassador posts content online in exchange for a reward.
Recommended: How You Can Launch a Successful Brand Ambassador Program
And in some cases, the ambassador can participate in offline brand events as well.
The point is that both parties support each other and grow in a way that makes people feel that the athletes actually like the products.
And that's what we mean with "authentic partnerships".
It's crucial that the college athletes you partner with actually love your brand because your campaigns will be more successful this way.
How does a college athlete ambassador program work?
To give you an idea of how this would work, let's say your brand sells energy drinks.
You'd like to increase awareness and sales among Gen Z through partnerships with several high-profile college athletes with an obvious tie-in to your brand.
So you identify a few athletes (or an entire team) that fit your ideal ambassador profile and invite them to join your program.
And, for additional reach, you invite other students to join as well. 
A standard challenge might look like this: ambassadors are sent a selection of free products every month in exchange for three Instagram posts and a single TikTok per month.
Alternatively, you can give your athlete ambassadors unique affiliate links to your products which they can share whenever they want. 
And for every sale they bring in, they get a pre-established commission.
The use of affiliate links motivates ambassadors to post more content about your brand every month because they get a direct reward for their efforts.
And you only pay for results.
These are two common ways ambassador programs work, but you could also offer cash rewards, discounts, store credit, or multiple benefits.
Examples of student athlete ambassador programs
The best way to learn is through the experience of others, so we have gathered a few programs that work in different ways to give you an idea of what you can do.
Ole Miss and Blue Delta Jeans
A great example is the partnership between Blue Delta Jeans and the Ole Miss football team.
The denim company, founded in 2011 by West and Nick Weaver, is no stranger to athlete partnerships.
And in this campaign, they offered every member of the Ole Miss football team the same NIL deal:
Every player that accepted received a custom pair of jeans with a value of $450
College athlete ambassadors then had to post 1 social media post per month from September 2021 to January 2022
Ambassadors also got a unique code they could share anytime they wanted and receive $100 every time their code was used
They would get another pair of jeans every time 20 people used their code
As you can see, Blue Delta Jeans offered players a combination of rewards to maximize their reach and sales.
Georgia Tech and TiVo
Another great example is the partnership between Georgia Tech's football team and TiVo. 
This program worked this way:
In exchange for promoting the company on social media for a month, players received:
Prepaid debit card worth $404
TiVo 4k streaming device
Branded footballs and pijamas
Plus, the company upgraded some audio and visual equipment from the school.
The collaboration was a success since 90 players from the team agreed to be part of this program.
Hanna and Haley Cavinder and Boost Mobile
The partnership between Fresno State women's basketball players Hanna and Haley Cavinder and telecommunications brand Boost Mobile was one of the first collaborations after the NCAA restrictions were lifted.
This marked the start of the brand's college athlete ambassador program with great success.
So much so that Boost Mobile announced that they were adding hundreds of NCAA athletes across many colleges including Alabama State, Georgia Tech, UCLA, among others.
What's worth noting about this ambassador program is that you can expand across the US through key partnerships with athletes from various campuses.
The rewards and tasks are simple enough to allow you to have a large program without breaking the bank.
Short-term college athlete influencer marketing campaign
Influencer marketing campaigns are the short-term option.
These traditional campaigns work in a very simple way.
Brands find a college athlete influencer and pay for 1 or 2 pieces of online content endorsing a product.
After the content has been published, the campaign ends.
One-time endorsements' main benefit is that a single post can have a massive reach thanks to the popularity of the influencer.
If the college athlete influencer is a good fit for the brand, then it's very likely that many of those people will become customers as well.
The same way typical influencer marketing campaign prices vary from influencer to influencer, college athlete campaigns will vary too.
But just because student athletes are new to the creator economy, it doesn't mean that popular students will charge little.
How successful your campaign is will depend on how good of a fit the athlete is to your brand.
The more authentic the better, so make sure that these characteristics are covered:
Good engagement rates (likes and comments in relation to their follower count)
Shows interest and alignment in your brand's purpose and values
Audience is aligned with your target market
If you have these 3 things covered, your campaign will have a higher chance of success.
Also, make sure you're tracking the metrics that matter to you. This way, you'll know if it was all worth it and what your next steps are.
This applies to ambassador programs as well.
Usually, with an influencer campaign, you're looking for brand awareness.
For this goal, you need to measure the number of likes, comments, new followers, and most importantly, visits to your site.
So even if there aren't as many conversions at that specific moment, the awareness generated can count as a positive ROI.
Check out our guide on tracking influencer campaigns ROI to learn what are the metrics you need to track according to your goals and how to do it.
Final thoughts on college athlete sponsorships
The most important thing to remember is that partnerships are very versatile.
There isn't only one way to do them.
So you need to think about what your goals are and what is the best way to reach them.
Create a program or campaign that makes college athletes excited. Something that makes them feel part of a special group.
If you do this, the promotion will never lack authenticity.
This post was updated in 2022