Starting a brand ambassador program can seem like an intimidating task. After all, brand ambassador programs are relatively new to the marketing world. In addition, the term "brand ambassador" can mean different things to a lot of people.
But as you'll see later in this guide, starting one is the best strategy to connect with consumers in a genuine way.
This approach arose from the fact that traditional marketing strategies like paid media simply aren't as effective for DTC and B2C brands. Consumers are spending more time than ever on social media, but an estimated four out of 10 consumers don't trust social ads. Thus, brands need to think about how they can create or work with creators who produce more authentic and engaging content.
Consumers naturally turn to familiar faces for brand recommendations because they are less likely to be promoting something only for their personal gain.
Just take a look at this statistic:
83% of consumers completely or somewhat trust recommendations from family, colleagues, and friends about products and services – making them the highest-ranked source for trustworthiness.
These benefits also apply to influencers. Which are more effective nowadays than traditional advertising as well.
With almost 90% of marketers reporting that ROI from influencer marketing is comparable or even better than other channels.
You might have questions about these concepts, but don't worry. It will all make sense soon.
This article will give you everything you need to know about brand ambassador programs, including definitions, types of ambassador programs, how to set up an ambassador program, the best practices, and a few examples.
Contents
What is a brand ambassador?
What to expect from a brand ambassador
What is an ambassador program?
How does a brand ambassador program work?
Types of brand ambassador programs
How to start a brand ambassador program
1. Define your goals
2. Identify activities and create guidelines
3. Find the right brand ambassadors
4. Training and onboarding brand ambassadors
5. Reward your brand ambassadors
6. Track your brand ambassadors' performance
7. Scale your brand ambassador program
Best practices
Examples
What is a brand ambassador?
Let's first define what a brand ambassador is. Many people think an ambassador is simply another word for an influencer or celebrity that promotes a brand, but that definition is not complete.
A brand ambassador is any person who is invited by a brand to represent and promote them in a positive light with the purpose of increasing brand awareness and sales. Influencers, celebrities, students, employees, and customers can all be brand ambassadors if the company invites them.
Anyone can become a brand ambassador. It just depends on the brand's goals.
Many brands make the mistake of thinking that someone with a large social media presence is the best way to go for promotion. But that is not always the case.
While celebrities and mega-influencers have a bigger reach, nano-influencers, students, customers, etc. have better engagement rates and conversions because they have a better connection with their small audience.
Later in the article, we will talk more about this topic.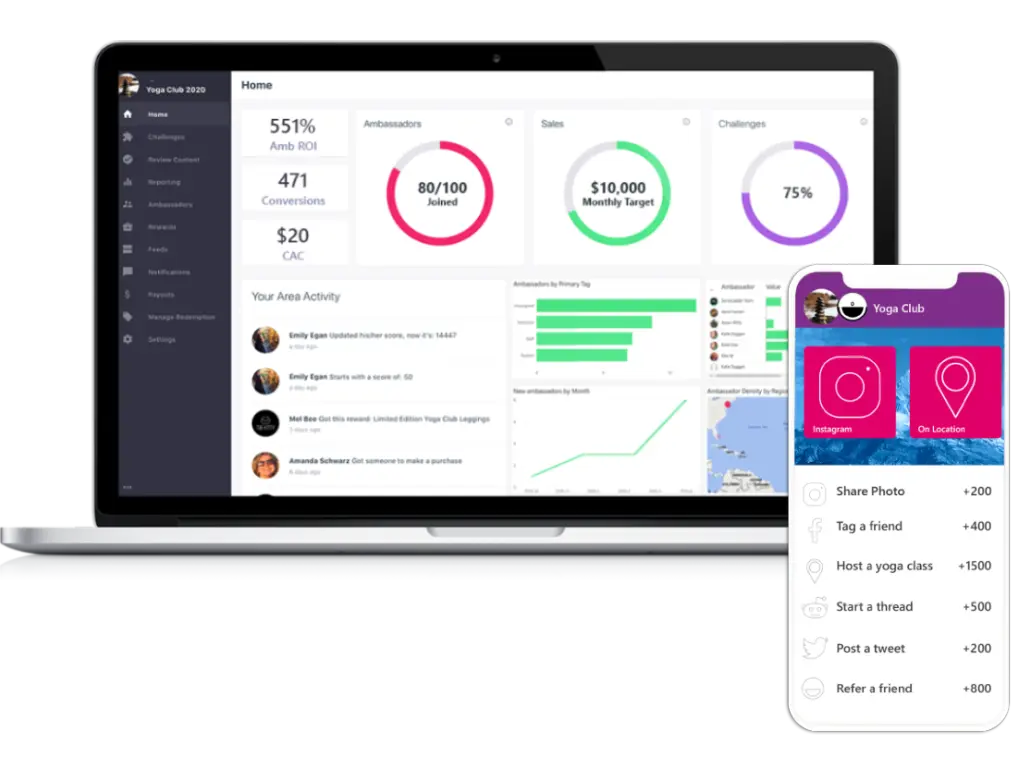 Find the perfect influencers & ambassadors and reward them for spreading the love for your brand with SocialLadder
Discover influencers/ambassadors, build your advocate community, generate UGC, track your ROI, and more.
What to expect from a brand ambassador
Unlike an influencer who is responsible for a short contract or single post, brand ambassadors are hired for a long term collaboration. During this time, your brand can expect them to carry the activities you think will get you closer to your marketing goals. It's up to you.
What does a brand ambassador do?
It depends on the ambassador and the tasks you assign. While you can ask an athlete ambassador to host a yoga class, that might not be the best idea for a mega influencer ambassador. They are better for social media content or for PR activities.
Generally, it can be a combination of online and offline activities. A few examples of brand ambassador responsibilities are:
Post on social media
Tag friends
Refer people
Host events, classes, etc.
Use hashtags
You can expect your typical ambassadors to generate content on social media and make peer-to-peer referrals to friends, family, and colleagues, for the most part.
In-person activities are more useful for campaigns where creating hyper-local awareness matters, like promoting a new store opening or an event.
Recommended: What Is A Brand Ambassador? Breaking Down The Basics
What is an ambassador program?
An ambassador program is a standardized process companies create to find, recruit, manage, pay, and track brand ambassadors.
Having a well-defined process helps companies onboard and work with ambassadors effectively. This way, brands can keep recruiting efficiently without having to plan each time it happens.
A brand ambassador program is different from a typical influencer marketing campaign because brands hire a group of ambassadors long-term. As opposed to a short-term collaboration for 1 or 2 pieces of content.
That is why there is a need to have a program.
To have the best results, it takes multiple ambassadors over a long period of time and constantly finding new people to join.
Let's go a little more in depth about how ambassador programs work and their benefits for your company.
How does a brand ambassador program work?
As we mentioned before, these programs are generally long-term and involve consistent and ongoing participation.
For that reason, brand ambassador programs work better when there is a tight relationship between brand and ambassadors.
Since brand ambassadors represent your brand, they should be thought of as an extension of your HQ brand team. In a way, how people see them is how you want people to see you.
With a brand ambassador program, you are establishing the requirements, guidelines, payment, and all the details of the relationship so there is a mutual understanding.
What are the benefits of a brand ambassador program?
People trust brand ambassadors
We briefly mentioned brand ambassadors are more trustworthy to consumers than traditional advertising.
It got to this point thanks to years of false advertising, scams, influencer fraud, and disingenuous content designed to trick people into buying stuff.
That is why only 25% of consumers accept ads as truth.
Now marketers are figuring out ways to leave those methods in the past and start marketing through genuine interactions, like brand ambassadors.
If you choose correctly, ambassadors are people who love your brand. People that started being impartial and through experience enjoyed your products and now are getting others to enjoy them as well.
Word of mouth recommendations are genuine interactions, considering that they happen all the time without any type of compensation
For these reasons, people value and trust other's opinions before making purchasing decisions.
More user generated content
User generated content is basically online word of mouth, meaning people talking about products online.
The value of user generated content (UGC) is that people trust it as much as in-person recommendations.
Through social media, people share good and bad brand experiences and those opinions reach everyone in their networks.
UGC is probably the most important task for your brand ambassadors. A successful program will incentivize this type of content as much as possible.
Ambassadors increase awareness
Naturally, when your ambassadors are promoting your brand online and offline, they will increase awareness.
But as you may know, having a bunch of people discovering your brand is not as good as having a bunch of people in your target audience discovering your brand.
There is a big difference. Well-selected brand ambassadors should always be part of your target audience.
Why?
Because that means that their network is mostly made up by others in your target audience.
The traffic that you will get from brand ambassadors will have a bigger probability of becoming customers.
Which brings us to the next benefit.
Brand ambassadors get better referrals
This is true for a couple of reasons.
First, brands recommended by an ambassador are trusted to offer good products and service.
Secondly, ambassadors are promoting to your target audience.
These two things together make for great conversions. But the benefits go beyond conversions.
After becoming customers, people will spend more than non-referred customers and then they will refer others as well.
Referred customers convert 30% better than non-referred customers, and have a 16% higher lifetime value.
Customers acquired through word of mouth spend 2x more and make 2x as many referrals themselves.
Feedback
Since your brand ambassadors are part of your target consumer audience, they can give you insights on the best ways to promote.

Feedback is also great for improving communication and building a better relationship with ambassadors. So make sure you ask for feedback.
Ambassadors are cost effective
The cost for every program is different. So there is no real average of a program cost. It will depend on the number of ambassadors you need, the compensation methods, and how you will manage them.
What we can tell you is that it generally is more cost effective than other marketing strategies. Much like SEO, ambassadors are a long term investment. If a brand lays a strong foundation, a brand ambassador program will result in lower CAC and higher ROI than any other marketing channel.
Here's why.
There are many payment options and strategies.
For example, if you go for the smaller ambassadors route, cash compensation or gifting will be much less expensive than hiring big influencers. Generally, people with a genuine love for your brand, even if they have a smaller social reach, will charge less or be excited to get access to more products.
This allows you to have a group of ambassadors in your program, even hundreds, and still have a manageable budget.
You can also pay through commissions. Meaning that you will only have to pay for actual conversion results.
The most important thing to remember is that because they love your brand, most will be happy to be compensated with free products, exclusive access, or discounts.
Below we will talk more about payment methods for brand ambassadors.
Types of brand ambassador programs
Not every brand ambassador program is the same, but there are some key elements to consider in order to attract the right people to join your community and effectively scale.
Usually, it can be agreed that there are four major types of programs, but we will add an additional one — challenge based ambassador program that uses gamification so your brand can assign digital and real world tasks to keep ambassadors engaged over a longer period of time.
In the end, you should consider all your options and build a plan that aligns with your marketing goals.
Here, we will talk about how these types of programs work and their basic differences.
Challenge-based brand ambassador program
This type of program allows brand ambassadors to choose the promotional tasks they want to do and they get rewarded accordingly.
Challenge-based programs are more flexible than any other type of program and because they involve gamification, they result in a higher participation rate.
SocialLadder is the only brand ambassador management platform/app that has gamification and automation built-in so brands can easily assign challenges and track ambassador performance in real-time.
Requirement-driven brand ambassador program
In this program-type, ambassadors are required to do a certain amount of tasks in a specific time frame. For example, 5 social posts per month in exchange for a monthly gifting package from the brand.
It is a fairly straightforward system that works well and is easy to manage. It also helps control your budget because you can know exactly how much you will pay for exactly how much work.
However, it is not as flexible as other types and can be tedious for ambassadors. Which can create a community that gets bored — so they are not as invested in being an ambassador or remaining engaged over an extended period of time.
Affiliate brand ambassador program (Affiliate marketing)
This type of program is included in this list because it's another way of managing an ambassador's conversion efforts and compensation.
Same as with an affiliate program, people promote a brand through their own marketing efforts using their online platforms. It can be on a blog, YouTube, Instagram, etc.
So you are not assigning the tasks directly.
The ambassadors are given unique affiliate links they can use in their content so that when someone clicks on them and purchases something, they get a commission.
Affiliate marketing is very popular because it is a way of incentivizing constant promotion. The more effort they put into it, the more they can earn.
You can use affiliate links for other types of programs as well if you like this compensation model but want more control over the campaign.
One thing to consider is that pure conversion based programs can cause ambassadors to churn because there is not enough to do to keep them motivated and engaged.
Affiliate links are best used for ambassadors who are also publishers of content with a large distribution base.
Informal brand ambassador program (Referral Marketing)
This is another example of how brand ambassadors overlap with other types of marketing.
It is called "informal" because technically they aren't brand ambassadors, they are just happy customers. Any customer can participate without any contract, and they do it because of their love for your company.
How does it work?
People are given unique codes that they can share with anyone. If someone uses that code, then they get a reward or payment from the brand. A common example is Ubereats where customers earn credits in exchange for referring new users to their platform.
Campus ambassador program
A campus ambassador program, or student ambassador program, is when a company recruits college students to promote the brand on campus.
This is a very effective strategy if you target a young demographic. Students' networks are made up of other college students, so their promotion works for hyperlocal campaigns.
In addition, college student ambassadors are typically very social and accept cost-effective compensation methods. Which makes them great for tapping into your target demographic without breaking the bank.
How to start a brand ambassador program
Now, it's time to start planning your brand ambassador program.
We know it's a lot of information to process, but with the following steps, you will be able to start in no time. You can use this guide as a template to build your own successful ambassador program.
These are the steps, which we will cover in detail:
Define your goals
Create guidelines
Find and recruit the right brand ambassadors
Train and onboard your brand ambassadors
Reward your brand ambassadors
Track your brand ambassadors' performance
Scale
1. Define your goals
The first step to any marketing strategy is defining goals.
To know who will be your ideal brand ambassadors, you first need to know where your brand is heading.
Every brand has different goals and there are a variety of things you can achieve with brand ambassadors.
So think carefully about your brand's marketing goals:
Increase brand awareness
Drive referrals
Generate sales
Expand to a new market
Reach a niche audience
Promote a local event or store
Reach college students
Build your community
Increase user generated content (UGC)
Depending on your key goals you will know which type of brand ambassadors and program fits them.
2. Identify activities and create guidelines
To achieve your goals you have to define the activities that your ambassadors will be performing.
Here are some examples of marketing goals and how ambassadors can help you achieve them:
Increase brand awareness
The best activity is to ask ambassadors to create social media posts and UGC. By posting to their personal channels the content will reach their friends and family to create a more authentic connection.
Drive referrals
Give your ambassadors a code or link they can share with their friends, family, and peers. They can share that code through social media or directly in-person or text.
Generate sales
Ambassadors are generally promoting to their friends so give them exclusive incentives that they can share with their following in exchange for driving new customers to your brand.
Expand to a new market
Ambassadors are the best way for a brand to excel at hyper-local marketing. They understand what the brand needs to do or say in their backyard in order for new customers to discover the brand. Using social media and traditional field marketing tactics — for example "host an event" — ambassadors can drive awareness in that market at a fraction of the cost.
If this is one of your goals, check out our goPuff case study and learn how they expanded their brand to new markets with the help of ambassadors.
Ambassadors are also great resources to give the brand feedback about what will work in that market so your brand can create the most authentic presence possible in the new market.
Promote a new store or an event
Use in-person activities like giving out flyers to drive awareness to the store or event. If the store is for a sports clothing brand, host work out sessions or classes.
Or perhaps your brand has a new retail partnership and you want ambassadors to take photos of your product at the store and then share it with their following.
We could keep going, but it's important to understand the different activities brand ambassadors can do for different goals. Be creative and encourage different activities but make sure they are aligned with your marketing goals.
Then, create guidelines for brand ambassadors to do these activities in a way that represents your brand. For example, in your ambassador onboarding materials, make sure they have access to a brand style guideline for social media posts.
Things to make sure you communicate to ambassadors:
How often you want these activities to happen
Types of content you want: Posts, videos, blog posts, etc.
Approved hashtags or brand tags?
Theme for content
etc.
3. Find the right brand ambassadors
To find your ideal candidates you first need to create an ideal brand ambassador profile that is aligned with your brand's marketing goals:
What are the characteristics that you are looking for?
Are you looking to build brand awareness, but not necessarily reach a niche audience? Then you are looking for macro, mega, or celebrity influencers.

Trying to reach a niche audience? Then look for people with a lower follower count and strong affinity to your target community. They may have a smaller follower count, but will have higher engagement with their content. Try nano, micro, mid-tier influencers.

Want people who are very familiar with your brand? Employees and customers are a great place to start.
Think about your brand's demographics and the ambassador's demographics, do their values align with your brand's purpose or ethos?
If you are trying to create more diversity in your customer base, look for people who are aligned with your brand's purpose but who have different interests so you can expand your footprint.
How do you see those values being represented once the relationship is established?
The important thing is to be as specific as possible to narrow the talent pool so that it's easier to find the ideal candidates.
Now that you have identified the ideal brand ambassador profile, you need to actually find them.
Finding brand ambassador candidates
There are three places where you can find the best brand ambassadors for your brand. These aren't the only options, but generally, people in these categories have the most potential.
Your team
Employees know their company better than anyone. So, it seems natural to invite them to become brand ambassadors. Because their friends and family know they love their brand, it doesn't matter that they don't have millions of followers, because they are seen as being truly passionate so their promotion will feel authentic and organic.
Employee ambassadors are sometimes referred to as employee advocates, and will have a big impact if managed appropriately.
The way employee brand ambassador programs work is by assigning and encouraging optional promotional tasks that they can choose to do or not in exchange for some type of compensation.
For example, the company can pay the extra hours it takes to do the task and add what they earn to their paycheck. Or create employee reward programs where they can unlock exclusive experiences or rewards.
This strategy works great because the brand gets promotion, and the employees earn extra income.
Your customers
Every brand has "diamond in the rough" customers — they are your brand's Super Fans and most loyal customers.They are probably organically driving referrals and posting content on social, so inviting them to be an ambassador for your brand is a great way to say thank you and offer them opportunities to get closer to your brand's HQ team.
People that really love a brand will get excited about being selected and offered this opportunity.
Honestly, who wouldn't want to be an ambassador for their favorite brand?
Look for people with repeat purchases or who have driven a lot of referrals. Customers that buy or refer regularly are perfect candidates. It is also smart to get your customer service team involved so they can invite happy customers to join.
Your followers
Similar to the previous point, loyal customers are most likely following the brands they love on social media. They can be included in the "customers" group. However, The difference is how you reach them.
Here, you are looking for potential brand ambassadors in your follower list for your brand's social media.
To find the best candidates on social media you will need to do some research. Try finding followers that engage regularly with your posts or that have posted themselves about your brand.
If they are promoting you without being an ambassador, chances are they are good candidates.
Consider these groups of people before looking in other places for brand ambassadors.
We will talk more about reaching out to candidates in the next section.
Reach out to your brand ambassador candidates
One of the most common issues have when considering starting a brand ambassador program is:
How to ask someone to be a brand ambassador.
There are many ways to make the process of recruiting easier for brands. Here, we will go into detail on the ways to ask people to become brand ambassadors.
Email your customer base
If you are considering your customers as brand ambassadors (you should), you can create a targeted email list and then send a personal note letting them know they have been identified and ask if they would be interested in becoming an ambassador.
Include in this email the requirements, the process, the tasks they will be performing, etc.
Then you can direct them to an application form, or they can just respond to the email.
Social media
After doing your research on candidates that fit your ideal brand ambassador profile you can do a couple of things to get their attention.
First, drop a follow. Then, you can reach out through direct messages.
Try to avoid spammy language or using bots to generate messaging. The more authentic you can sound as a brand, the more likely they will participate.
Some brands invite people on social media who are not following the brand or who have never heard of the brand to be ambassadors. They require them to make a purchase in exchange for a deep discount. Try to avoid this and instead look for people who are already connected in order to build the most authentic ambassador community possible.
If there is no response, it either means they are not interested, or they haven't had the opportunity to see your message. So, make sure you send follow ups, maintain a friendly tone, and don't be overly pushy by getting them to make a purchase.
Another way to approach people on social media is by commenting on a recent post. Sometimes DMs get buried and people never see them. On the other hand, people will likely see all the comments they get (unless they are big influencers).
If you want to recruit a big influencer, you will probably end up talking to a manager so make sure your brand has a clear vision for what you need the influencer to do and what you are willing to spend
Application form
We mentioned this resource before because it is the most popular way of getting candidate's information and for making sure they are committed to joining your team.
Through email, your brand website, career sites, and even social media, you can let your brand fans know that you are open to receiving applications.
Many people search on Google for companies with brand ambassador programs.
By creating an application form page, these people could find you if they missed an email or post announcing it.
With a page, you are permanently announcing how your ambassador program works, the requirements, and how to apply.
No matter how you reach out to your candidates, it's important to have an application form on your site to gather their data in an efficient way.
For brands looking to have a true relationship with ambassadors, you may want to consider setting up a video conference interview as part of the application process so you can meet each other and you can get them excited about the opportunity.
4. Training and onboarding brand ambassadors
Once you have reached out to your candidates and they accept being brand ambassadors, it is important that youtrain and onboard them so they understand the brand vision and their role.
Fortunately, the process is not too complicated once you have a system in place.
Training is all about the resources. You need to provide the right resources to give direction to your brand ambassadors.
What we recommend the best way to streamline this process is to standardize the training by creating a document with guidelines, or a "brand ambassador handbook".
Send it to all ambassadors so they have the same information at all times and you don't have to spend more time repeating unnecessary things. This will give you more time to focus on building and maintaining a relationship with your brand ambassadors.
Some sections you can include are:
Terms & conditions
Information about the brand
Brand ambassador's role
FAQ
Style guidelines
Content inspiration
Additional resources & best practices
After that, you can start the onboarding and activation process. This is up to you. You can use a contract or a simple agreement.
Then, you can finally start assigning challenges or tasks, depending on your type of program.
5. Reward your brand ambassadors
Another main question many brands have about starting a brand ambassador program is:
How to pay a brand ambassador?
And the answer is that there are various methods you can choose from. There is no definite model.
It's not uncommon for brands to use a couple of compensation methods to maximize the potential of their budget.
These are some of the most common ways companies pay/reward brand ambassadors:
Cash – hourly / per-task
Gift cards
Discounts
Free products / gifting
Exclusive / early access
Commissions
Since your ideal brand ambassadors are passionate about your products, many are willing to accept discounts or free products as compensation.
And if they are loyal advocates, they could even accept doing the promotion for free. Motivated by the desire to help others and be part of your community.
Consider all options and talk with your candidates to see which forms of payment they are willing to accept.
Extra incentives and motivation
Since being a brand ambassador is not a full time job, people will have other responsibilities. So it's very important to keep them engaged and motivated so that they participate in promotion as much as possible.
To achieve this, make it easy for them to accept tasks, maintain constant communication, show your appreciation, and offer extra rewards for people that show extra effort.
These things will keep your participation rates high.
6. Track your brand ambassadors' performance
To have the best results in your brand ambassador program, you need constant optimization. And for that, you need as much data as possible.
This is important because you can build a business case around the value ambassadors are bringing to your brand. If there is an increase in sales you won't know if it was because of your ambassador campaign or for some other reason.
Not knowing what is working and what isn't will result in a waste of resources and time.
Here are examples of metrics you should be tracking:
Content created
Engagement
Impressions
Referrals
Sales
Shares
Traffic to website
Return on Investment (ROI)
Cost of Acquisition (CAC)
Compensation costs
Track the metrics that align with your goals and establish key performance indicators (KPIs).
There are various methods you can use to track these metrics. For example, unique promo codes and affiliate links.
However, tracking can be challenging without the proper tools. So the best thing you can do is use ambassador management software.
7. Scale your brand ambassador program
Scaling is probably one of the biggest challenges for companies that have brand ambassador programs.
Brand ambassador programs work best when you are constantly onboarding new ambassadors to expand your reach.
But this can get pretty messy once you have dozens or hundreds of ambassadors, no matter the size of your marketing team.
Without the proper system, scaling will end up in less overall control, higher costs, and fewer results.
To overcome this issue, there are two things you need to do.
The first thing is planning. You need to create proper documentation so that every step of the process is well-thought out.
And the second thing is to use the right brand ambassador management platform. A platform specifically made for brand ambassadors helps find candidates, onboard them, assign tasks, pay them, track results, measure ROI, and scale the program easily.
A complete brand ambassador solution will let you keep things in control no matter the size of your team.
Best practices
Running a successful brand ambassador program requires effort, but once you have made the investment, the payoff will be tremendous. You have to remember that you are managing humans that participate because they love your brand. Unlike a strictly-business influencer campaign where you just pay someone to do a job.
Think about ambassador marketing like SEO — laying the foundation is important, and it takes some time to get the flywheel going, but once you get going you will be able to quickly scale your word-of-mouth marketing in a way that no other marketing channel will do.
In this section, we will talk about the best practices so that you know what differentiates a bad ambassador program and a good one.
Build a community
You need to be creative and build a community your ambassadors feel emotionally connected and that they feel special to be a member of.
This will drastically improve participation rates and productivity. So think about your team of ambassadors as your community. Support them, engage with them, provide a great experience, and build a relationship.
Once you see the examples we show below, you will really understand what this means.
Constant communication
We briefly mentioned communication is important for managing brand ambassadors. And we can't stress it enough.
If the brand ambassadors don't feel like a part of the team, they won't act like it.
These are some tools to help you communicate with your ambassador community:
Email
Chat
Facebook group
Message boards
Video conferencing / events
Centralized platform
Do weekly check ups, company updates, create content for your community, acknowledge their work, provide positive reinforcement, etc.
Be available
To add to the previous point, communication should go both ways. If you make it known that your brand ambassadors can ask you anything, they will feel closer to the company.
So have a channel in place for chatting with ambassadors.
Be fun
An ambassador having fun is a productive ambassador. That might seem counterintuitive, but it's true. Many brand ambassadors will stop participating if they are not having fun.
So make sure your messaging feels authentic and fun.
Get feedback
Since your brand ambassador community is part of your target audience, they can give you valuable insights.
This practice also goes both ways. Share your suggestions so they can improve.
Encourage creativity
By encouraging your brand ambassadors to be creative, your content will stay fresh and on-trend. It will also make your ambassadors' content feel unique since they are not just copying the same format and style.
Optimize
If you are tracking metrics, you will have valuable information about what is working and what is not. Don't stick with the same process if it's not working after a while.
Consider different activities and approaches.
Examples
Now, let's take a look at some of the most successful brand ambassador programs out there.
Lululemon
For Lululemon, community is everything. They literally say it on their site.
And brand ambassadors are how they connect with their own community as well as with other communicates.
They make a big emphasis on community and connection because they know how much value they drive.
Lululemon's brand ambassadors are passionate members of a community, such as athletes, trainers, yoga teachers, etc. that create and host in-person and online activities.
Then, they have store ambassadors, which mainly host activities, classes, and events in Lululemon's stores.
Giving ambassadors and customers a place to gather and build a strong relationship.
As you can see, Lululemon is very good at community building. They understand that brand ambassadors and the brand itself work best when there is a community supporting them.
But these aren't the only things their brand ambassadors do. Lululemon gets feedback and inspiration from its ambassadors. Since they are the ones using their products all the time, new ideas for products and promotion are encouraged.
Lululemon's brand ambassador program is a great example of having the right community-first mindset.
Bumble
Bumble has really set the bar high for brand ambassador programs. Since 2014, they have dedicated a lot of effort into building an engaging community with presence in 15 countries.
Their 'Bumble Honey' campus ambassador program is especially impressive for creating an experience that makes ambassadors truly feel like part of the brand. Giving them creative freedom and allowing them to grow professionally and personally.
Some of the activities that Bumble ambassadors do are:
Represent the brand's values
Negotiate partnerships
Host events
Spot marketing opportunities
As far as successful campus ambassador programs go, Bumble Honey is one of the best examples.
Something that brands can learn from Bumble is to think about the ambassador experience in order for them to be committed and engage more. So make it easy for them to join and participate in a fun community.
Celsius
Celsius is a popular fitness drink brand that has gathered a group of passionate ambassadors that spread a healthy lifestyle.
Celsius chooses their ambassadors based on their enthusiasm and involvement in their online & offline communities. Both of these characteristics make for great ambassadors, so make sure you consider them for your ideal brand ambassador profile.
Another factor about this type of program that interests the brand is their involvement beyond promotional tasks.
They encourage their ambassadors to be involved and inspire the company, as they mention on their registration page.
Through user generated content they are increasing their reach and attracting new customers efficiently.
Shein
Shein is a very popular clothing brand with one of the most successful campus ambassador programs in the US.
It works this way:
Students apply through an application form.
Shein reviews the application and gives the selected candidates a unique code.
Campus brand ambassadors share that code with their friends, family, and peers through their own online or offline methods.
Brand ambassadors get commissions and rewards when people buy things with the code.
Why does Shein's student ambassador program work so well?
Because Shein took the time to create a fun community that students love. They offer student brand ambassadors internship opportunities, a mentorship program, exclusive giveaways, and invitations to events.
They also have an ambassador spotlight section on their site and videos that show appreciation for them.
In one of the spotlights, you can see that one ambassador received a $21,000+ check for her commissions. That's a lot of referrals.
So that answers the question, is the effort worth it?
Shein's student brand ambassador program is an excellent example of how to manage a profitable campus ambassador community for those reasons.
Pura Vida
Pura Vida's brand ambassador program is another popular example that works similar to Shein's program.
Although, this program is not only for college students. People fill out an application on their site, Pura Vida reviews it, and gives them a unique code.
Brand ambassadors then share this code with everyone they can and earn a 10% commission for sales, while the referred gets a 20% discount.
They also offer exclusive rewards and giveaways to its ambassadors, among other perks.
Aerie
Aerie's brand ambassador program is an example we want to bring up because of the growth they experienced thanks to it.
Their program started with 40 student brand ambassadors across 10 universities in the US.
That was in 2017.
Now they have expanded their program to 170 brand ambassadors in 2021 and accept more than college students.
What Aerie's ambassador program teaches us is that brand ambassadors are a versatile tool to expand a company's reach. Their program was able to build brand awareness among their target audience in several states at the beginning, and grew to a passionate community.
Over to you…
That pretty much covers how to start a brand ambassador program. The strategy is still relatively new but more companies are figuring out it is actually less expensive and more effective than their paid media campaigns.
If you haven't started one already, it's the perfect time. Otherwise, down the road, you might find yourself trying to catch up to everyone's huge brand ambassador programs.
As a final note, always be authentic and genuinely care about your brand ambassador community.