Have you ever liked a product or service so much that you recommended it? Getting that to happen more often for your brand is advocacy marketing.
Acquiring new, passionate customers is the goal of any marketing strategy. What's even more important is whether or not your passionate customers are willing to share their love for your brand with their friends and followers.
But the road to getting customers to champion your brand can be a little blurry. After all, recommendations happen organically.
Achieving this is becoming more important in the world of marketing due to the changes in customer behavior.
And it wouldn't be a surprise that advocacy marketing and word-of-mouth marketing in general, become even more important than paid advertising.
In this guide, you will find everything you need to know about advocacy marketing. Let's get started.
What is advocacy marketing?
Advocacy marketing is a word-of-mouth marketing strategy that involves encouraging and incentivizing your brand fans to champion your products or services through social media, reviews, and word-of-mouth.
Having a strong advocacy marketing strategy allows your brand to market in a way that feels more fun, authentic, and customer-focused.
Not sure what is a word-of-mouth marketing strategy? Check out this guide on the topic.
With that in mind, what does it mean to be an advocate?
What is an advocate?
An advocate is a customer who lives and breathes your brand. They not only believe in your product or service, but also in your values and ethos as a company — which most likely align with their own values. Employees who take an active role in promoting the brand are also advocates.
This passion turns into a more natural form of word-of-mouth marketing, in which that trusted customer becomes an advocate for your brand with or without very little incentive.
They are intrinsically motivated to talk about and recommend your brand within their sphere of influence.
Your advocates are driven solely by their passion for your brand and the desire to share that feeling with others.
This creates a greater sense of authenticity, humanity, and relatability for your brand that is essential for growth in today's marketing landscape.
Why you need advocacy marketing
Now that you know what exactly these terms mean, let's look at the things that advocacy marketing can do for your business.
If you like statistics, then you will appreciate this, check out these facts that demonstrate the power of advocates:
These numbers paint a clear picture that customer and employee recommendations have massive power in influencing purchasing decisions. Now take a look at why advocacy marketing is able to generate these benefits.
Advocates drive trust
Let's face it, brand-created content will never be as trusted as user-created content. And it's for a simple reason.
Obviously, a brand will talk highly of itself, but other people verify if what they say is true.
Advocates are customers that fell in love with your brand through experience. So when they recommend you, it's genuine.
Besides, people wouldn't recommend a product they hate to their friends.
And if someone recommends something to their friend, it's almost certain that they will trust your brand.
Actually, 92% of people trust brand recommendations from people they know.
Your advocates are able to get the trust that you need much more effectively than any paid advertising campaign ever could.
Advocates increase your reach
Advocates can be famous influencers and celebrities, or people with less than 1000 followers on social media.
It doesn't matter their individual reach. What's important is that the numbers add up.
A group of 100 people with an average of 1,000 followers per person adds up to a reach of 100,000 people.
But as you may know, many people have much more than 1,000 followers, so a group of 100 advocates should have a much bigger reach in reality.
In addition, they continuously grow their accounts, so your reach grows as well.
The best thing about the reach of advocates is that their friends and followers most likely have the same interests.
So the people you reach through your advocates are highly probable to become customers.
Advocacy marketing increases revenue
When you have new people in your target market discovering your brand, and who trust you, you get more sales.
This is how Advocates can increase your revenue, and they're happy about it.
Since they genuinely love and support your brand, they want to see you grow and be part of this growth.
In comparison, paid advertising is less effective than advocacy marketing in this aspect, as you can see from this stat:
Word-of-mouth recommendations generate twice the sales of paid advertising.
How can marketers turn customers into product advocates
The biggest challenge for marketers when it comes to advocacy marketing is actually getting advocates.
You most likely already have some, you just need to identify them. However, more advocates will always be better.
So, how do you turn your customers into advocates to get the most out of your advocacy marketing strategy?
We will mention a couple of proven ways, but the most important thing is to think like a customer.
Think about what a brand would have to do for you to recommend them. Then, implement those changes you'd like to see in other companies.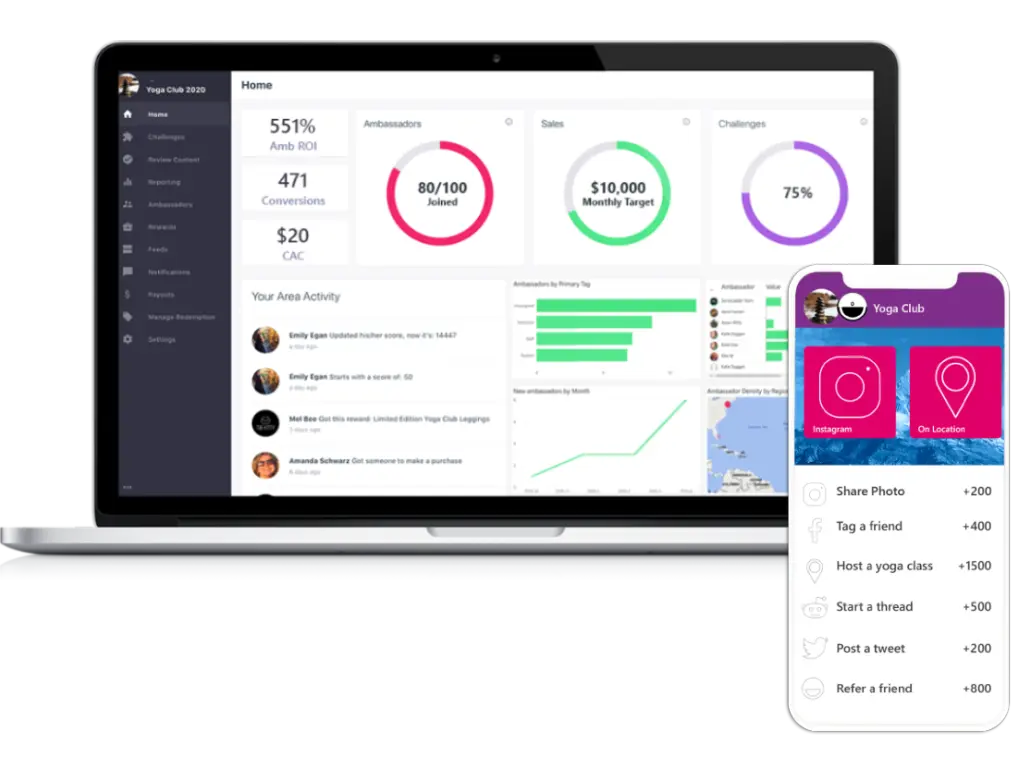 Identify your biggest fans and reward them for spreading the love for your brand with SocialLadder
Build your advocate community, create challenges to generate UGC, reward them, and track the ROI of each advocate
Optimize customer experience
Customer experience is huge when turning customers into advocates.
Obviously, as a brand, you're always trying to improve this aspect of the company, but you should take a closer look for this purpose.
Even improving something like customer service and making it faster than the competition can easily turn someone into an advocate. Or maybe reducing the steps for a purchase.
Improving as many customer interactions as possible will do wonders for your advocate conversion rates.
Also, create more personalized touchpoints to communicate with your brand fans, and be sure to keep your messaging upbeat and friendly.
Customize any messaging based on purchasing patterns and geographic location, so your customers feel a stronger, personal connection to your brand.
You can communicate through email, text, social media, or even creating stronger omnichannel experiences for your customers.
The important thing is to provide an experience that stays with your customers.
Use social media correctly
Treat your social media channels as extensions of your customer service and discovery to solve any customer-related issues.
Solving customer issues publicly with a willingness to listen, helps improve communication between you and your customers while building a greater sense of loyalty.
But most importantly, use social media to engage and interact with your followers.
Social media is an amazing tool to connect with your customers, so do that.
Respond to comments, be friendly, and show appreciation.
On this last point, a tactic that works really well to connect with your audience is by sharing their stories on your social media channels.
Offer incentives
Many customers are ready to be advocates but don't spread the word out for a couple of reasons.
Maybe they forget, they're not too active on social media, or there hasn't been an appropriate situation to recommend you.
So the best way to motivate them to be more vocal is by rewarding them.
The best way to do this is through an ambassador program.
With an ambassador program, you can create challenges for your customers to participate in, in exchange for some reward.
This can be an exclusive discount, free merchandise, cash, or another prize that strengthens their connection to your brand.
For example, you can tell your customers to upload a story with one of your products and in exchange, they will get a cash reward.
Or send them a monthly free product package and tell them that they need to post 2 images on Instagram and 1 TikTok, for example.
These challenges can simply involve customer participation through social media or offline activities like hosting events.
This of course is up to you, but no matter the tasks you choose, it's a very effective way of converting casual customers into vocal advocates.
Taking advocacy marketing to the next level
Advocates organically recommend and mention the brands they love. But the point of advocacy marketing is to make this happen a lot more often.
Now that you have identified your biggest fans and are turning customers into advocates, it's time to take it to the next level.
Ambassador program
Invite your advocates to join a dedicated brand ambassador community for a more robust offering of incentives and challenges that will encourage them to completely represent and promote your brand.
We already talked a little about how these programs typically work above, so read that in case you skipped it.
But basically, brands create challenges that advocates/ambassadors can choose to complete in exchange for a reward.
Cash payment
Free products
Discounts
Commissions
In turn, the brand gets consistent user-generated content, brand awareness, and sales.
Creating a home for your advocates allows you to strengthen their connection to your brand, steer word-of-mouth messaging from the inside, and gain new customers through a low cost acquisition channel.
You could say a brand ambassador program is the ultimate strategy for advocacy marketing because it converts new advocates and incentivizes them to do the tasks that will benefit your brand the most.
Referral program
A referral program is a type of ambassador program that's a little more hands-off than other programs.
In which you give your advocates the tools to make more referrals and earn a reward but without you assigning specific tasks.
When you sign up for a service like Uber Eats, most of the time you get a unique code to share with friends in exchange for some type of discount on your order. That's a referral program.
You can start a referral program that benefits both the referrer and the referee. This will motivate advocates to refer more, and motivate people to become customers.
The most common reward is store credit or discounts.
As an alternative, give your advocates unique referral links they can use to promote the products they choose and give them a commission for the sales they generate.
Commissions are a big motivator since the amount of effort they put into promoting your products will result in a higher payout.
In addition, you would only have to pay for results.
No matter the type of program you start, just remember to offer several different pathways for your advocates to make referrals easily.
Collect user generated content
Advocates are your best source of user-generated content (UGC).
And today, UGC is and will be critical for the success of DTC brands.
Why?
Because people want to see normal people using the products before making a purchasing decision.
There are many statistics that demonstrate why UGC is so important, but this one is eye-opening:
76 percent of people say they're more likely to trust content from "normal" people than brands.
Just like we said before, brands can never match the level of trust user-generated content creates.
And it's okay. Brand content is still somewhat trusted, but UGC takes everything to the next level.
Focus on the social channel with the most traction, and encourage customers to post their own content about their experience with your brand for a chance at a repost, possible use on your brand's website, or even as content for future marketing campaigns.
You can also incentivize UGC with the tactics mentioned above.
Ask for feedback
Tap into your brand fans to collect meaningful feedback.
Incentivize and encourage reviews about your products, comments on your social media posts, and conduct surveys to gauge customer thoughts and opinions.
Get feedback from your community as much as possible. It strengthens your relationship and gives you valuable insights into what you are doing right and wrong.
Your customers know better than anyone else what they want, so really listen to them.
They are your biggest fans, so they'll be happy to have a positive impact.
Examples of effective advocacy marketing campaigns
We've put together some examples of effective advocacy marketing campaigns to help you get the most out of your strategies:
Peloton
Peloton has a unique referral program that they use to incentivize current owners to share the love with friends and family.
Users have the potential to gain up to $1,200 in Peloton apparel and accessories credit over the span of one year.
The more customers share their code, the more credit they receive.
Not only did this have a large impact on sales, but it allows Peloton to track which members are stirring up the largest amount of buzz for the brand, so those loyal customers can turn into brand advocates in order to further that relationship in future marketing campaigns.
goPuff
GoPuff's #GoBackGiveBack challenge on Instagram focused on cross-promotion with a charitable backbone.
The challenge involved posting a throwback picture with the hashtag, tagging @gopuff, and then challenging three other friends to participate.
Upon completion, GoPuff donated $5 to the Boys and Girls Clubs of America for every submission.
Not only did this campaign help to build brand loyalty amongst consumers already familiar with the brand, but it helped visibility grow even more by including the tagging of additional people.
Doubling down on customer loyalty and a positive brand image can pave the way for advocacy marketing to work effectively for your brand, just like it did for goPuff.